Join us for House Guests: Textile Artists in David Parr House, the first in a series of creative interventions that invite contemporary artists, designers and makers to respond to David Parr House.
The inaugural guests all work in textile materials and processes to acknowledge the story of Mary Jane Parr, wife of David. Bringing textile works into the historic domestic interiors of David Parr House shines a light on Mary's presence in the house. Before she was married, Mary lived in Cheshire where she was a doubler – a textile worker who, from home, spun cotton threads to create new yarns. Through the work of eight artists, House Guests: Textile Artists explores making, domesticity, and the stories of the house.
Each House Guests intervention presents works by artists that offer new ways to consider the house, its interiors and its history. Through visiting works, new narratives are discovered, highlighting how the themes and values of David Parr House are as relevant today as they were to those who inhabited the space from the 1880s.
Each exhibition slot is 50 mins starting at 10.00 am, 11.00 pm, 12.30 pm, 1.30 pm, 3.00 pm and 4.00 pm. Your ticket includes a brief introduction, a printed exhibition guide and a chance to explore David Parr House and the artworks.
Artists: Emily Campbell | Fiona Curran | Shelly Goldsmith | Tanvi Kant | Rachael Matthews | Richard McVetis | Beatrice Mayfield | Anya Paintsil
Please note: Photography is permitted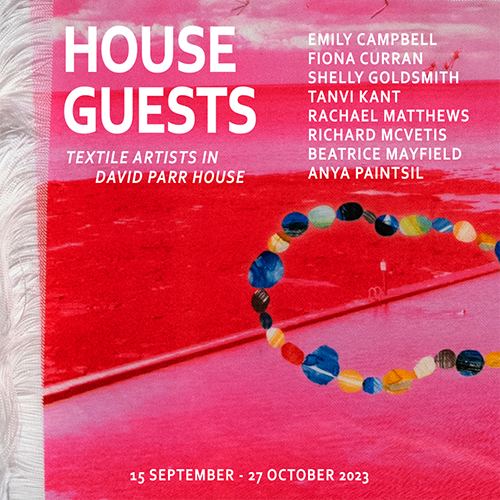 Location
Cambridge, United Kingdom
Venue Info
David Parr House
184/186 Gywdir Street
Cambridge East Anglia CB1 2LW
United Kingdom 
Phone: 01223311680