Virtual Gallery of selected pieces will be available for viewing on January 2!
Walk down any street and you will see historic details. Architecture, landscape, and the community combine to create obvious and hidden discoveries. Whether the timeline is 20 or 2,000 years, art can open eyes to historic details, sharing clues that bring new awareness to public spaces. Examine any structure relevant to history, whether personal or global. How can the smallest architectural detail spark our imagination? Challenge yourself to consider how a structure interacts with the landscape to evoke a sense of time and place. 
THIS CALL IS FOR AN ONLINE GALLERY
Open to all SAQA members
No entry fee (up to 3 entries per artist)
No size or date restrictions
Because this is a virtual exhibition, it is critical that submitted images be of the best possible quality: in focus, with clear details, and following SAQA's digital image requirements. Please read Virtual Gallery Submission Guidelines for more details.
Don't miss this! We have prepared a handy resource of  Tips for Successful Art Quilt Photography.
About the Curator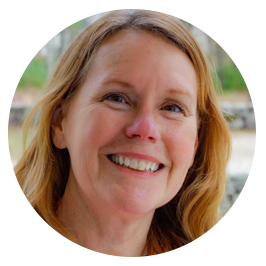 People, places and zeitgeist captivate Alanna Nelson. From Tunisia to Italy to Massachusetts (USA), her fiber art evolves with every location she calls home. Today, she is a community connector inspired by the environment and history, working to create participatory events and public art installations. 
Discover her work at alannanelson.com and connect with TactileTravels on Instagram.