Tour Leader: Vickie Clontz
Vickie Clontz is an award-winning textile artist celebrating 31 years of business with her unique pattern company Annie's Keepsakes! Vickie has published over 100 patterns for quilts, home décor, sewing and wearable art, and just finished writing her 4th book for Leisure Arts. Her one-of-a-kind projects have appeared in 60+ magazines and books across the US and abroad. Vickie began sewing when she was 5 years old and developed a passion for textiles all through school, earning a Bachelor of Science in Clothing Design in college. She has continued her love of sewing by sharing her skills and expertise through teaching classes and workshops at shows, shops and for guilds across the US as well as in France. To see Vickie's work, please visit her website at http://www.annieskeepsakes.com
This 12-day French tour showcases the textile heritage of Provence with visits to museums, specialty shops, and workshops along with two days at the European Patchwork Meeting, an international quilting e
vent that features hundreds of quilts and vendors.
In Avignon, the art of fabric printing in southern France is highlighted at the Souleiado Museum and the Olivades factory and outlet shop, where artisans build on generations of craftsmanship to produce goods for today. In Lyon, visit the Textile Museum and become immersed in 2,000 years of textile history. Then discover how the Soierie Vivante association preserves the city's last two 19th-century textile facilities: the municipal trimming workshop and the municipal weaving workshop.
Of course, France itself delights with architectural wonders and natural beauty. Enjoy time in Beaune, the center of the Burgundy winemaking region. Discover artisan potters, and shop to your heart's content at markets brimming with wares.
COVID-19 - Book with confidence
If Government imposed COVID-19 restrictions mean that we cannot run a tour, or that you cannot travel to join a tour, then you will be given a 100% refund of all monies paid to Opulent Quilt Journeys for your tour.
Vaccination requirements
Opulent Quilt Journeys requires all participants on its tours to be fully vaccinated against Covid-19.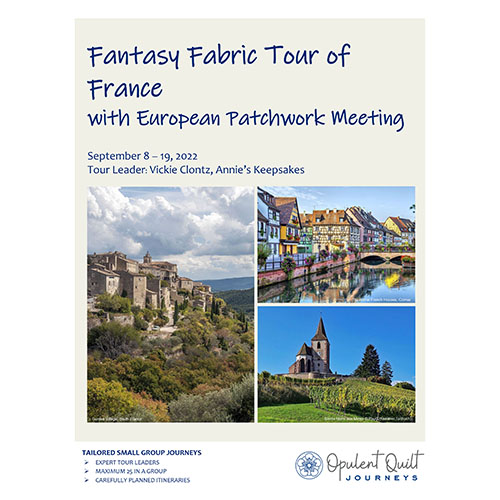 Location
France - various locations