Scroll down to view the image gallery. Click on any square image to launch the slideshow. Be sure to click See Details under each image to find out more about each piece, including additional images, videos, and statements.
Walk through the gallery or enjoy the guided tour in Imprisoned's Virtual Tour!
Virtual Gallery Theme
Prisons can take many forms. We can be incarcerated and held against our will, or we can feel trapped in a more personal prison of our own bodies and minds. Oppressive regimes can limit our freedom to learn, to grow, and to be ourselves, while global crises or local unrest can create a new type of prison, causing us to feel stuck in a world that is broken.
Perhaps, some prisons can offer opportunities for growth by testing our grit and humanity, while others leave an indelible stain on our spirit. What happens when we escape them? What happens when we can't?
About the Curator
Mieke Leenders is a Belgian writer, journalist, and social justice advocate currently residing in Costa Rica. In her fiction and poetry, she commonly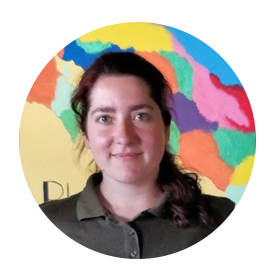 explores the themes of mental health, artistic expression, identity, and outcasts. Mieke enjoys experimenting with form and style, and her work is often reflective in nature. She holds a master's degree in art history and has a background in art historical analysis, iconology, interdisciplinary research, and teaching.
Curator Statement
Imprisoned was first born as a concept when the world was still suffering the aftershocks of the pandemic, mere days after the Russian invasion of Ukraine, and a few months before Roe vs. Wade was overturned. Records of growth in mass incarceration and increasing numbers of deaths on migration routes were a fact, while escalating reports on environmental destruction had become an ominous drum we set our daily routines to. Anxiety and depressive disorders were (and are) on the rise, with an alarming number of people feeling their mental health needs were not being met.
Global crises, local unrest, and lack of support caused many of us to feel stuck in a world that is broken. And while we have grown in many respects, open and constructive communication on vital topics is still fundamentally lacking. This is where artists hold a valuable position, wielding a medium that demands to be seen, and the SAQA community has done an inspiring job of creating a visual dialogue many among us can relate to.
These artists took the theme of imprisonment and applied it to our inner selves as well as our political and social climate. With interpretations of victims of war, the vulnerability of children, mental and physical illness, women's rights, trauma, degradation, violence, navigating a perilous world, and those condemned in a broken and unjust system, Imprisoned represents a journey from our inner to our outer prisons.
I hope it inspires you as much as it did me!
 
Selected Artists
Margaret  Abramshe (Utah, United States) - Raven of War
Linda  Anderson (Oregon, United States) - Finding Comfort
Marie Bergstedt (CA, United States) - Decisions
Jayni Bloch (Ontario, Canada) - Find the Medicine for the Poison of Imprisoned Pain
Phyllis Cullen (Hawaii, United States) - No Sky Inside
Judith Duffield (CO, United States) - This Should Keep Her Quiet
Linda Geiger (FL, United States) - Ever After
Heather A. Hager (Ontario, Canada) - Perpetrator and Victim
Christine Hager-Braun (NC, United States) - Wall of Depression
Silvana Therp Hansen (Sjælland, Denmark) - The Invisible Pain
Alexandra Kingswell (Derbyshire, United Kingdom) - Reaching out: tentative connections in an age of pandemic
Zwia Lipkin (CA, United States) - It's a Perilous World
Joanna Mack (OH, United States) - Dreams of Freedom
Tracie L. Maryne (BC, Canada) - Entangled
Kathleen A McCabe (CA, United States) - Incarcerated
Linda  Mushka (Saskatchewan, Canada) - Cages of our own Making
Dan B. Olfe (CA, United States) - Alcatraz #2
Danuta Dana Owczarek (Wroclaw, Poland) - My friend Tom
Tina Sommer Paaske (Sjaelland, Denmark) - Isolation
Daena Schofield (Canterbury, New Zealand) - Experiencing Epilepsy
Candace Hackett Shively (GA, United States) - Unsafe, Unseen, Unheard
Jean Sredl (WI, United States) - Pieces
Maggie Vanderweit (ON, Canada) - Crime Scene
Erika Weber (CA, United States) - Weary Blues
Deborah Weir (CA, United States) - Alcatraz 5
Vickie Wheatley (Kentucky, United States) - Anxieties #9: Collision Course
Kathy York (TX, United States) - Half In Half Out