Title
Regional Representative
Location
New Maryland, New Brunswick
Bio
Reflecting upon my lived experience, I create thread-stitched designs using printed, hand-dyed, and painted fabrics and recycled yarns. To increase a connection to my materials, I have begun to explore dyeing and mark-making, creating the surface design of the fabric I use. I am currently interested in the increasing invisibility in society as we age and in our inter-generational baggage. Emphasis on strong line, negative space, and asymmetry appeals to me, as does improvisational piecing with intent to create a particular mood or convey an idea. Colour and visual texture used thoughtfully excites me.

After quilting for almost twenty years, I wanted to use my skills to create work that expressed an idea or feeling. Realizing that I needed to learn much more about how to do that, in 2019, I returned to school full-time to gain formal design knowledge, completing certificates in Foundation Visual Arts, then Advanced Studio Practice in Textiles from the New Brunswick College of Craft & Design. Finally confident enough to call myself an artist, joining SAQA made sense. The community I have become part of is supportive and inspiring. My former life as a software development professional also likely influences my practice – whether fortunately or unfortunately is still up for debate.

Recently, I've begun to be juried into national and regional exhibits. My visual arts practice is supported by grants from the New Brunswick Arts Board and Canada Council for the Arts.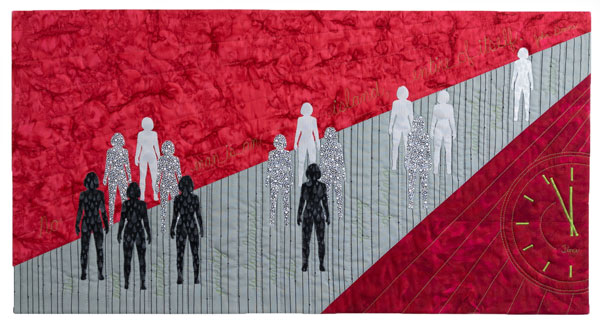 Isolation
16" x 21"
2021