Title
Regional Representative
Location
Rochester Hills, MI
Bio
I am an artist. My medium is fabric.

I was born and raised in Dayton, Ohio, and lived there until I went to college. I'm number 3 out of 4 kids and shared a bedroom with my maternal Grandmother and older sister until I was 10. My Grandmother was a quilter, although she never would have called herself an "artist" even though she was.

Before I was ten years old, I started out throwing pots and loving my hands in the clay, but I fell in love with photography as a teenager, and to this day, I take hundreds and hundreds of photographs each year. Visual images intrigue me. The play of shadow and light is a common subject and "everyday" images: stacks of black and white laundry hampers in Aldi, rows of nail polish in CVS, a remarkably bright Baltimore Oriole that lands on my feeder. I believe we have to look for beauty in the ordinary. I'm also passionate about color, visual repetition, texture, pattern, and good design.  

When I was president of the Oakland County Quilt Guiles, Katie PM was a guest speaker. I was able to pick her up from the hotel, have lunch and dinner with her several times, and then participate in a 2-day workshop. She introduced me to SAQA. I went to the first Alegre Retreat in 2011. Nancy Crow, our instructor, opened the door to fabric as a medium for art. I understood the visual AND tactile world I had just entered. I've done five week-long retreats with Nancy. I was also introduced to Rosalie Dace and have been lucky to do four workshops with her.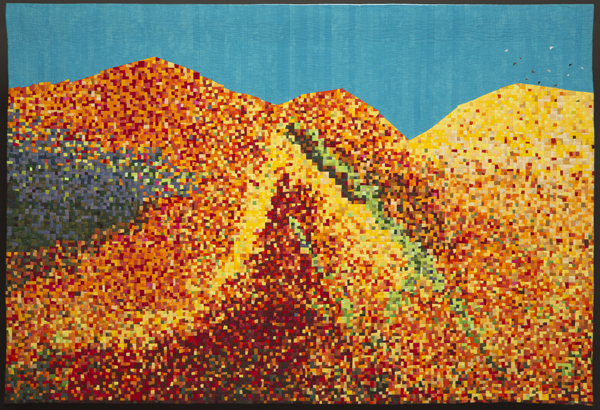 Autumn
72.5" W x 48" H
2022