Guest Post by Maggie Vanderweit
SAQA invited Central Canada Regional Representative Maggie Vanderweit to share the details of her region's retreat. Here is what she had to say about the experience.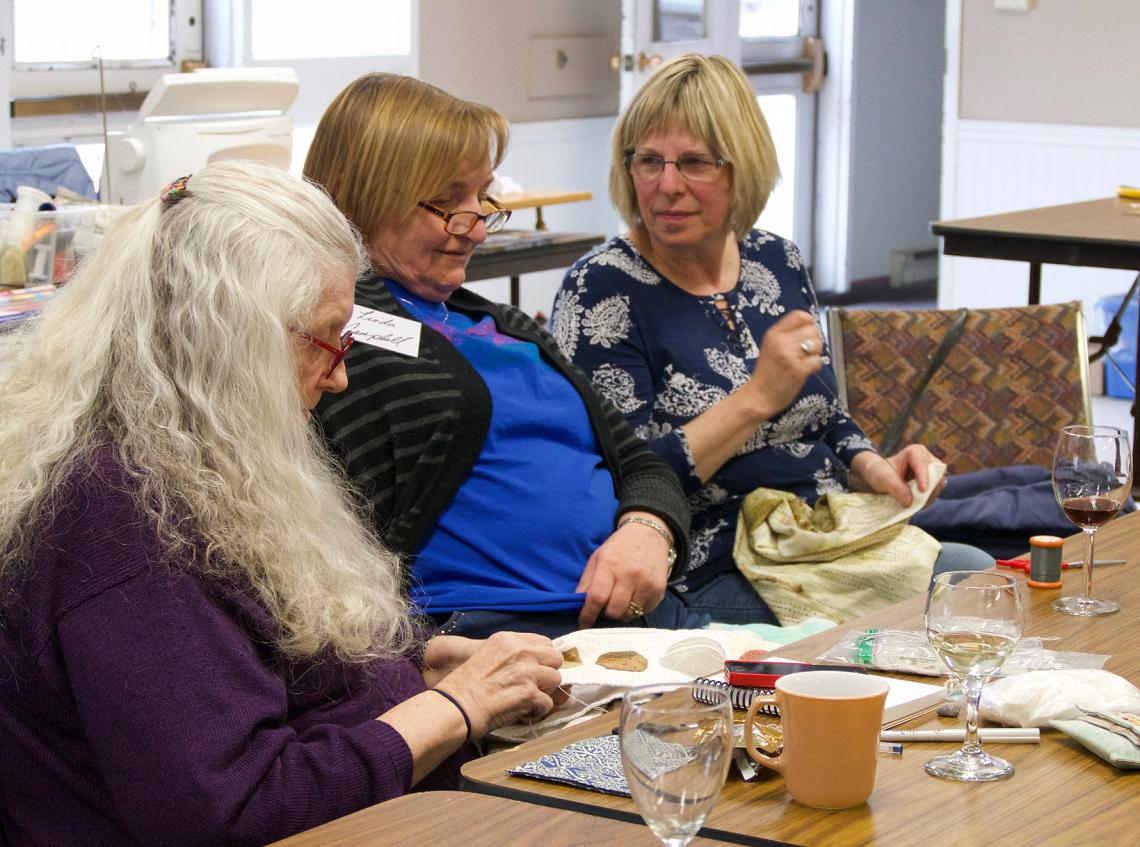 Central Canada SAQA members attended a three day retreat in Crieff, Ontario in April.2018
The stated purpose was to give people uninterrupted time to sew and socialize with other SAQA members. My personal aim was to help build a cohesive team for the 2020 SAQA conference in Toronto (SAQA's first Canadian conference!) and to have FUN!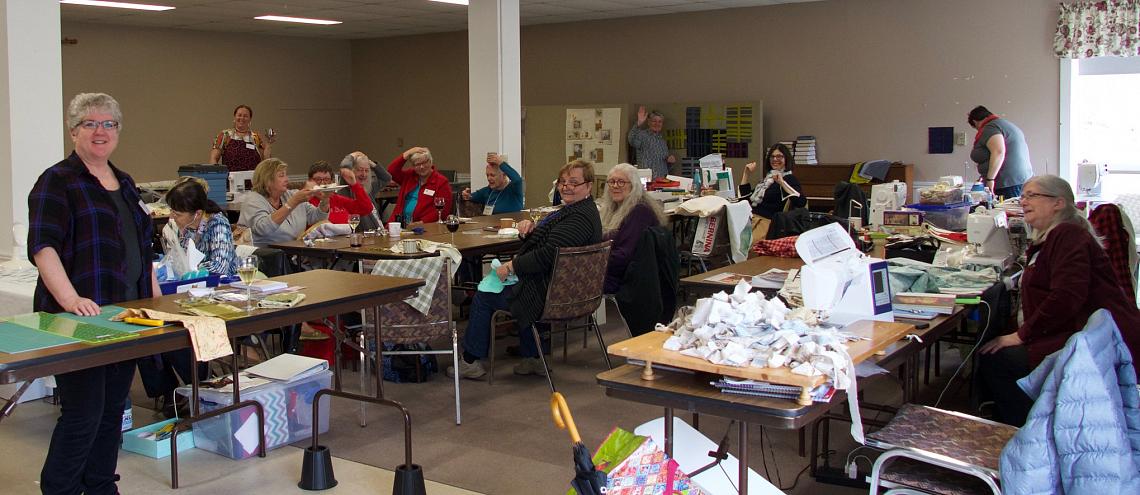 We were at the Crieff Hills Conference Centre, which is a large non-profit facility located about an hour west of Toronto and ten minutes off a major highway. The Centre is surrounded by hundreds of acres of rolling hills, forests, fields, and hiking trails. There was WIFI access but no TV.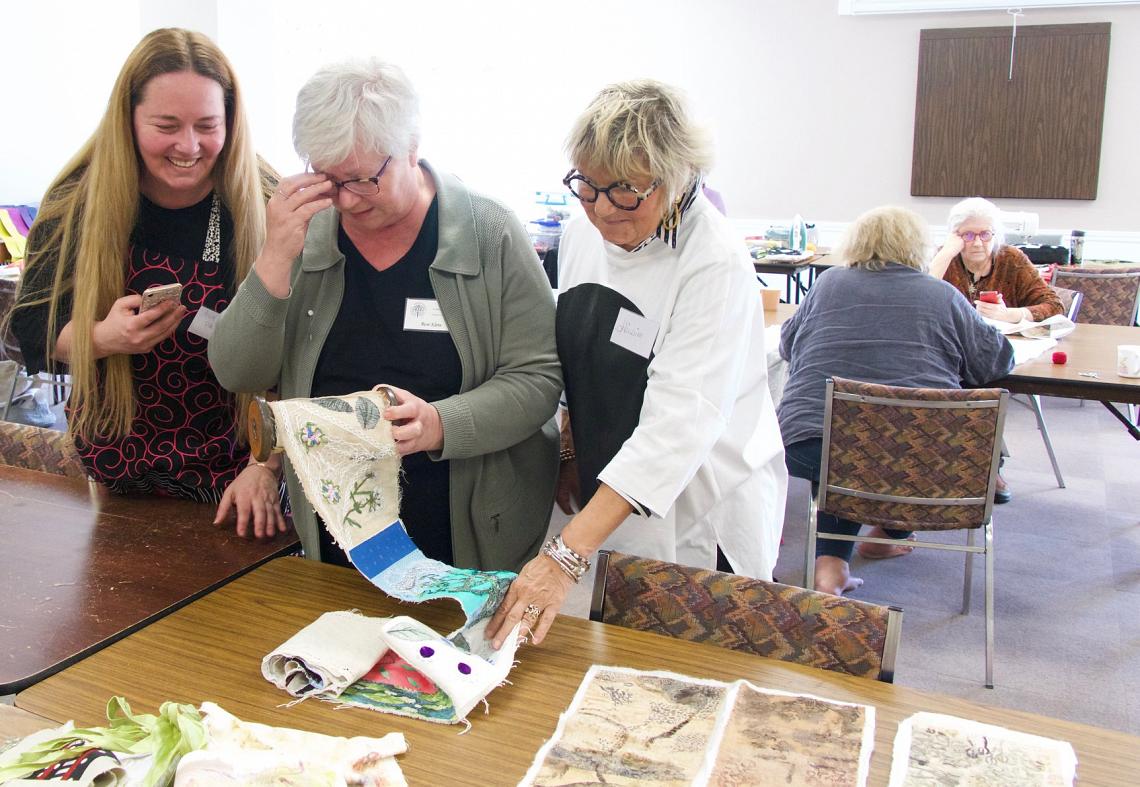 We stayed in two of the Conference Centre buildings, one of which was very accessible for our members with mobility issues. We worked in two spaces. The first space was accessible for all members and located in the same building and on the same floor as some of the bedrooms. The second space was larger and could accommodate wet work. We could use the work areas around the clock if we liked.
People could choose a single or shared room, everyone had private bathrooms and the beds all had quilts on them! If an attendee needed a roommate I matched them up, or they chose their own roomies.
We had a few group events including a mixer, a timed show and tell, a brief presentation by me about SAQA news focused on the most recent SAQA conference held in San Antonio, Texas and a SAQA give away.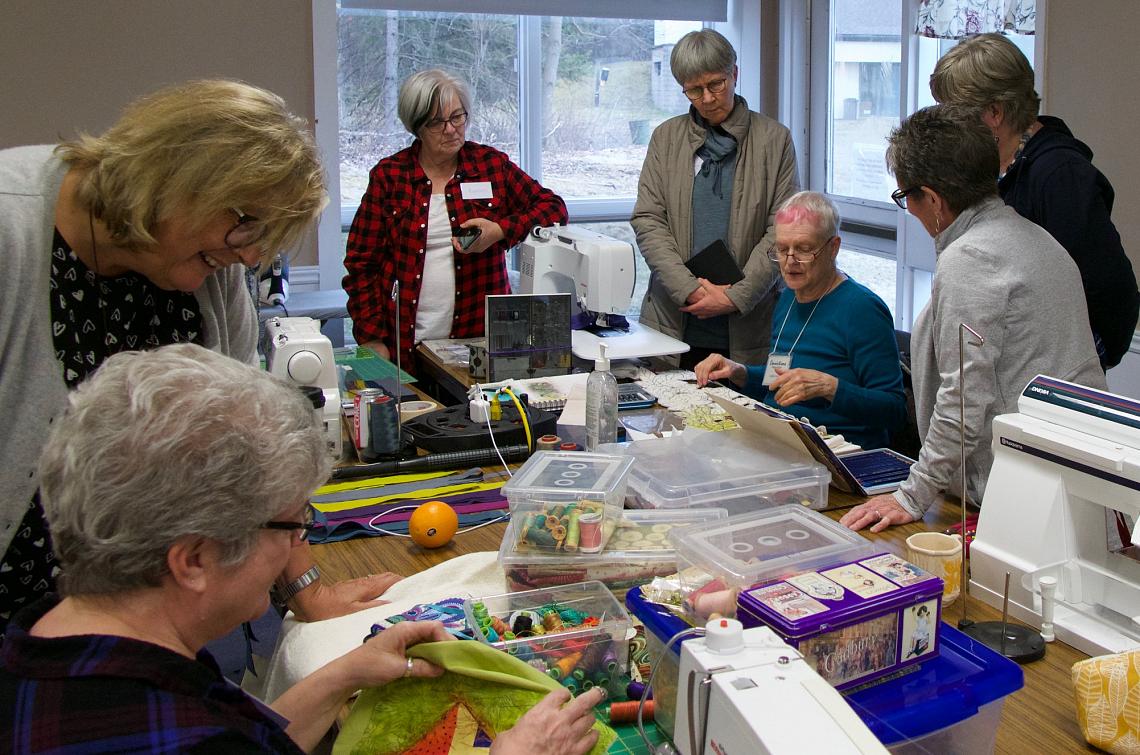 Happy Hour was every evening from 4:45 – 5:30 with wine and cheese and many other snacks. Everyone brought yummy finger food and wine to share.
We had two tables laid out as the all day "Grazing Stations".  Food was labelled to indicate allergens. We had access to a few refrigerators for storing items. Delicious home/family style meals were provided in the dining hall.
Everyone did what they wanted to do, so they – finished UFO's, began new projects, deconstructed screen-printed, felted, dyed, hand and machine stitched and visited each other for cross-pollination and conversation about methods and styles. Many went for long and short hikes. People brought wonderful books to share during down time.

It was fabulous!
If your SAQA region is thinking about having a retreat, here are some things I learned from hosting this retreat.
Ask about and be very careful about food allergies. We had lots. One member with a severe peanut allergy showed us her Epipen, and we discussed how to use it.
Try to find a facility that can accommodate mobility issues.We had a number of people with chair walkers, canes, and hip replacements, and they all loved the facility.
Offer an assortment of accommodations including single and double occupancy as well as ground floor housing for members with mobility issues.
Give people lots of unstructured time to connect. Everyone who attended agreed that free time was the very best part.
Create clear parameters for members VERY early in the process. Give clear information about meals, payment, and work options (wet/dry).
Get a solid deposit to ensure commitment. Our final payment was due during the retreat and people could pay with cash, e-transfer and cheques.
Ask people to bring snacks so that there is a personal element as well as variety to the food available.
Remind folks to check the forecast to know what weather to expect and plan accordingly.
Let everyone choose their own work area.
Label all shared materials.
Buy bed risers to make a few work tables high enough to be comfortable cutting tables
It is not that hard to organize, so just do it!
I very highly recommend retreats as a way to begin to make lasting and meaningful friendships and to deepen longstanding ones. As a sure measure of our success, next year we're going for even longer, Monday -Thursday, as we all agreed more is more!
It was marvelous to escape real life for a bit, have dedicated stitching time, and feel the fun and support of a being with a like-minded tribe.