SAQA Seminar (Article)
Maria Elkins describes how she used Munsell Color Theory to expand her color range within her work. She includes helpful photos of her fabric stash sorted according to hue and value.
Munsell color order system is based on a three-dimensional model depicted in the Munsell color tree. Each color has three qualities or attributes: hue, value and chroma (also referred to as (HVC).
(click images below to view larger)
About the Artist
Maria Elkins is an award-winning fiber artist who specializes in creating original art quilts. 
She was drawn into the world of quiltmaking by the fascinating array of traditional quilts with their bold colors, strong geometric designs, and fanciful names. While she still loves these time-honored quilts, she now combines her love of art with her love of fabric to create one-of-a-kind, original art quilts using fabric, paints, inks and other embellishments. 
She has spent more than twenty years experimenting with various ways to depict people and portraits using the textile medium. She enjoys exploring a wide variety of techniques including drawing, painting, printmaking, and applique. 
She has appeared on "Quilting Arts TV" and filmed a DVD workshop, "Making Faces," on her favorite subject. She has had quilts and articles published in numerous magazines including Quilting Arts, American Quilter, Machine Quilting Unlimited, and Quilter's Newsletter. Maria studied Textile Arts, Sewing, and Pattern Drafting at San Diego State University (San Diego, California). In 2006, she graduated Summa Cum Laude from Wright State University (Dayton, Ohio), receiving a Bachelor of Fine Arts degree in printmaking. The culmination to her college experience occurred when she gathered up her lithograph-on-fabric experiments and created "Redeeming Fragments," which won First Place in the Mixed Techniques category at the 2006 International Quilt Festival in Houston. 
Maria now enjoys retirement with her daughters and their husbands and her four grandchildren. 
Visit her website: mariaelkins.com.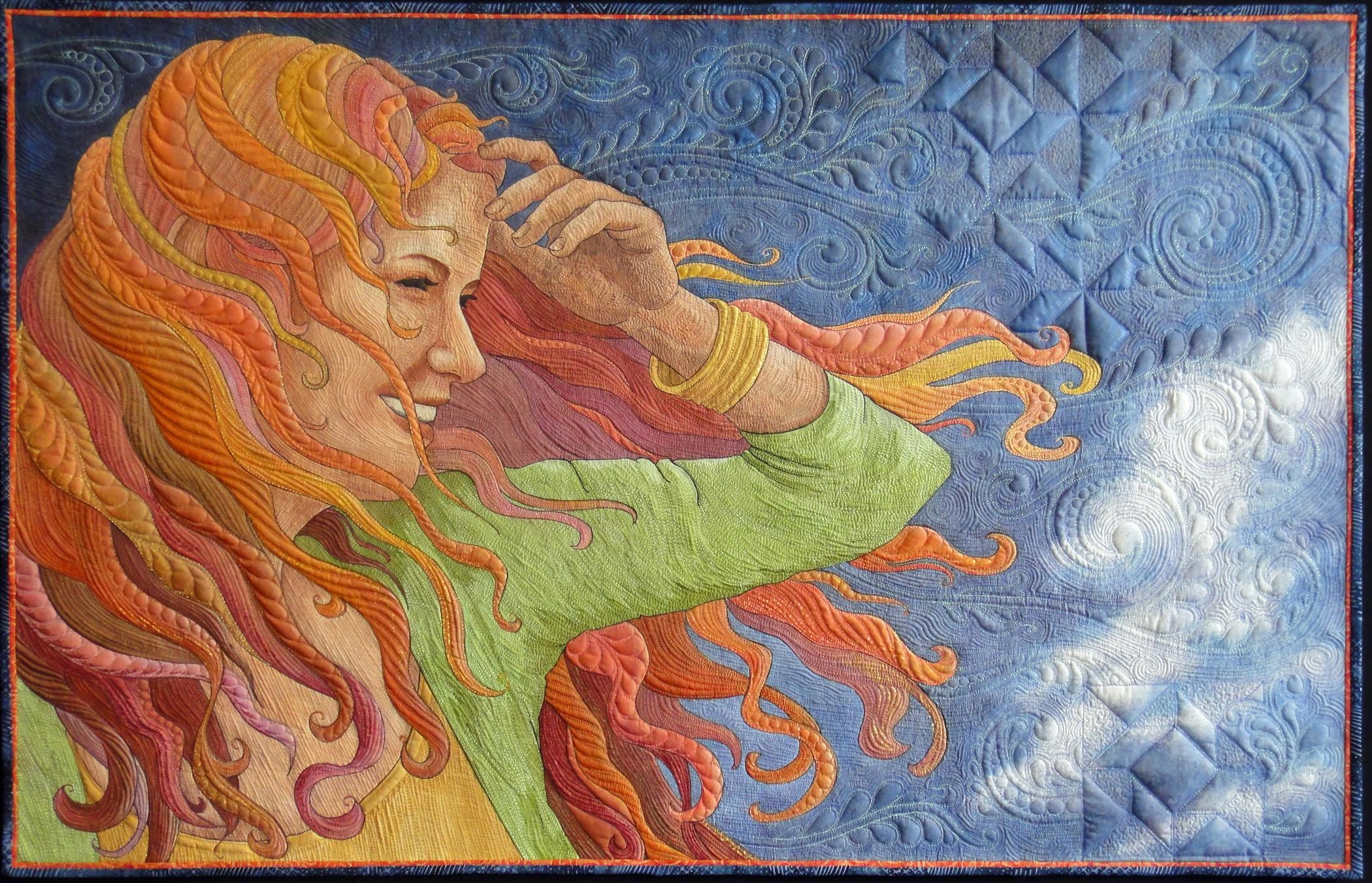 Maria Elkins - Windblown