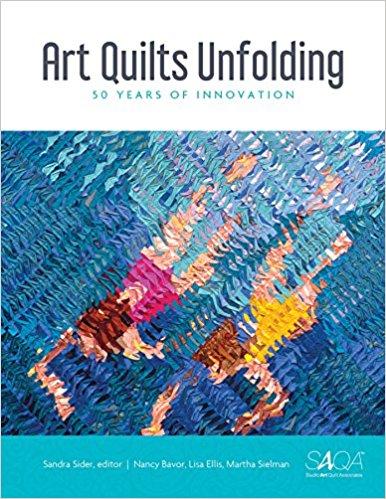 Edited by Sandra Sider. Written by Nancy Bavor, Lisa Ellis, and Martha Sielman 
From 1965 through today, the art quilt movement has grown to become one of the most exciting art forms of the 21st century. Today, thousands of artists and collectors around the world are passionate about this art form. Until now, there has not been a comprehensive, chronological history of the studio art quilt, which has become an international phenomenon.
Published by Schiffer, this publication offers full-color images of 400 masterpieces along with engaging interviews and profiles of 58 influential artists, key leaders, important events, and significant collections. Organized by decade, an additional 182 international artists' works are featured.
An introduction by Janet Koplos, former senior editor of Art in America, and a conclusion by Ulysses Grant Dietz, emeritus chief curator of the Newark Museum, help us to understand the impact and the future of the art.  
Since 1989, SAQA has been working diligently to raise awareness and appreciation of the art quilt and the artists who make them. A key aspect of SAQA's overall mission is to document and record the progress of the art quilt movement. With the generous support of our donors, the Art Quilt Retrospective project now includes this beautiful publication and two traveling exhibitions, Layered & Stitched and Modern Inspirations.
 
More Details
Hardcover: 352 pages
Publisher: Schiffer; 1 edition (October 28, 2018)
Language: English
ISBN-10: 0764356267
ISBN-13: 978-0764356261
Product Dimensions: 8.5 x 11 inches