Member Program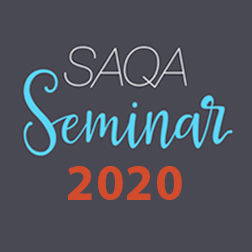 Our focus this year is Your Professional Toolkit and we are excited about the richness of the content! The goal of the Seminar is to educate and inspire members. There are recorded video conversations with accomplished artists, resource links, written interviews with SAQA artists, and more.
Whether you've already established a professional art practice, are simply curious about what that would entail, or anywhere between, we think you'll find something instructive and enlightening. If you have any questions, please feel free to contact us at seminar@saqa.com.
The first step in putting your art on a more professional plane is getting it seen.  But where? How? Unit 1 shares the experiences of artists who've traveled that path. You'll also find resources for learning the best practices for preparing your work for exhibition.
We love to make our art, but a professional practice doesn't stop there.  As in any other business, we have to market our product (in addition to showing it).  Learn how some artists have done this in Unit 2.
You've gotten your work out in public. Great!  Now, wouldn't it be great if someone or some organization bought it?!  While there's no sure path to successfully monetizing your art, in Unit 3 you'll hear about how some artists have achieved this goal.
Besides physical exhibition, there's a virtual world out there with many platforms on which to share your work. The choices seem endless. In Unit 4 you'll learn how other artists have decided where, how, and how often they share their art online and their parameters for determining the success of their efforts.
Teaching, writing, speaking: these are but three ways to generate income that can be directly related to your art. Learn about the rewards and costs of diversifying your professional activities from artists' personal experiences in Unit 5.
Continuing education and exploration are also key to your professional art practice. Classes and workshops, critique and discussion groups, art and museum outings all support your development. SAQA has many opportunities and resources available to you as part of your membership. Unit 6 surveys your options inside and outside of SAQA.