Time
9:30 – 4:00 Mountain Standard Time (GMT/UTC-7)
Virtual Conference open to all SAQA Members and guests!
Date:  August 19
Time:  9:30AM – 4:00 PM
Place: Phoenix Forge - 535 W Van Buren St, Phoenix, AZ 85003
The SAQA- AZ Regional Conference is stacking up to be an event you don't want to miss.  We have three artists sharing their 3-dimensional work: Betty Busby, Kay Kahn, and Linda Blust. Jan Downey will speak on Cultural Appropriation and Kirby Plessas presents protecting your art in the Cyber world. Plus, add on to your conference experience by attending an in-person workshop by Betty Busby before the conference starts (scroll down for details).
You can attend the conference in person and meet some of our speakers at The Phoenix Forge or you can attend from the comfort of your home via Zoom.
Schedule of events
Betty Busby – Presentation on the third dimension
Kay Kahn - "Kay Khan's Textile Sculpture: Structure and Inspiration"
Linda Blust – Presentation on her Wild Menagerie
Jan Downey – Cultural Appropriation
Kirby Plessas - Cyber Security and Art
In-person Cost: $80 (includes lunch)
Virtual only:
$40 - SAQA Arizona member
$50 - SAQA member outside AZ region
$100 - Non-SAQA member
Refund policy: No refunds after August 1, 2022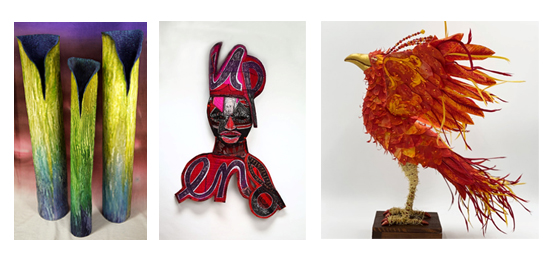 Betty Busby Workshop - The Third Dimension (3 Day workshop)
Betty Busby played at "Arts and Crabs" with her two little sisters as a small child, and continued her obsession through graduation from the Rhode Island School of Design, with a ceramics major. She founded and operated a ceramic tile manufacturing firm in Los Angeles, and sold it after 18 successful years in order to move to New Mexico to raise her son. She is a published fiber artist and teacher, and maintains a busy exhibition schedule nationally and internationally.
Learn all about heat shapeable batting in this 3 day workshop. We will explore the basics of using this very useful material by creating free standing, quilted cylinders. Please note- for everyone's safety, Betty requires all people taking classes to be up to date on Covid vaccinations.
Dates:  August 16 – 18
Time:  9:00 AM – 4:30 PM
Place: Phoenix Forge - 535 W Van Buren St, Phoenix, AZ 85003
Price: $300 for SAQA members, $400 for non members
Refund Policy:  No Refunds after August 1, 2022
Class materials fee: $25 payable to Betty covers materials for the 3 day workshop, includes 1/2 yard Fosshape 300- extra material is available from Quilter.com.
Supply list:
Sewing machine, and supplies (pins, scissors, thread etc)  *machine should be set up for quilting, either free motion, or with a walking foot.  You will be quilting an approximately 18x20" piece.
1/2 yard each of two materials- any kind of material that isn't sheer. They will be used together.
Neutral colored button & carpet thread and sturdy needle
Two or more 1" wide artist brushes, water container for rinsing them
Two pieces of foam core, 20x30" commonly available- size not crucial
2 or more white plastic kitchen garbage bags
A small, handheld steamer such as the Conair Extreme Steam Fabric Steamer from Target is really handy- if this isn't an option, bring a steam iron.
Gloves for painting, apron
Water mister
Bring your lunch
Location
In-person and virtual
Venue Info
Phoenix Forge Makerspace
535 W Van Buren St,
Phoenix, AZ 85003