SAQA has been invited to again participate in SOFA Chicago
From their website: SOFA Chicago explores materiality and meaning in sculpture, objects, functional art and wearable design, along with a curated selection of self-taught and contemporary art. Taking place annually at Chicago's Navy Pier, and focusing on three-dimensional artworks that cross the boundaries of fine art, decorative art, fiber arts, and design, SOFA is a confluence of perspectives where art, design, and people intersect.
Not only is SOFA an exciting chance to have your work displayed at this prestigious venue, it is also an unparalleled opportunity to present to the art world elite the contemporary viability of fiber as a fine art medium.
Due to booth size, only a limited number of works will be selected. Sales will be allowed at the venue. 
EXHIBITION DATES:
November 3-6, 2022
This is a single venue exhibition - artwork will be returned by December 31, 2022.
SIZE REQUIREMENTS 
Maximum Sizes, (there are no minimum sizes):
2D Wall Mounted Works – Height: 72"  (183cm) Width: 48" (122cm)
3D Wall Mounted Works – Height: 72"  (183cm)  Width: 48" (122cm) Depth: 12" (31cm)
Freestanding Sculptural Works – Height: 72" (183cm) Width: 24" (61cm) Depth: 24" (61cm) with a 20 pound maximum.
No ceiling hung work will be considered.
NOTE: All wall hung art must hang without distortion either with stretcher bars, stitched on sleeve, or other integrated hanging system. Accepted artists must provide all hanging apparatus and hardware necessary to display their art if it does not include a standard sleeve. Artwork must be able to fit through a standard 34" doorway.
ELIGIBILITY / FEE
Artists must be a current SAQA member to enter this call. Please refer to SAQA's Exhibition Policies and FAQs  for more details about policies. $40 USD for up to 3 entries. Entry fee must be paid online before the entry deadline via a credit card or PayPal at www.saqa.com/fees.
QUESTIONS?
If you have questions about this exhibition, please refer to SAQA's Exhibition Policies and FAQs where many exhibition related questions are answered. If you have any further questions regarding this exhibition, please contact us at Intersect@saqa.com.
Venue Info
Festival Hall, Navy Pier
600 East Grand Avenue
Chicago, IL 60611
About the Juror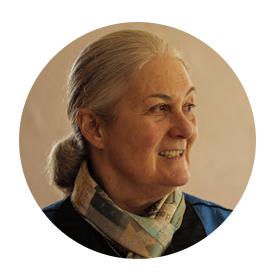 Carol Sauvion is the Creator of Craft in America, the documentary series celebrating American craft and the artists who bring it to life. The Craft in America series airs nationwide on PBS.
Sauvion is the Executive Director of the non-profit organization Craft in America, which has a mission is to promote and advance original handcrafted work through educational programs in all media. Projects include the PBS documentary series; the book, Craft in America: Celebrating Two Centuries of Artists and Objects; two inclusive websites: www.pbs.org/craftinamerica, www.craftinamerica.org and the Craft in America Center, located in Los Angeles and open free to the public. The Center originates exhibitions with catalogs, hosts artists' talks and workshops and provides access to a large craft library.  
Craft is Sauvion's lifelong passion. For the past 41 years, she has been the director of Freehand, her Los Angeles gallery specializing in functional craft. Prior to her involvement in the gallery, she was a potter for ten years. She continues to make pots as an avocation. She is currently on the board of the American Craft Council.
Important Dates
May 1, 2022: Online Entry Opens
May 31, 2022: Online Entry Deadline at 6:59 pm Eastern Daylight Time (GMT/UTC -4)
July 31, 2022: Notification of Acceptance - All notifications will be sent via email
September 30, 2022: Artwork to be RECEIVED by SAQA - details provided upon acceptance
November 3-6, 2002: Intersect Chicago, for this venue only
TBD End of Exhibition - work will be returned December 31, 2022