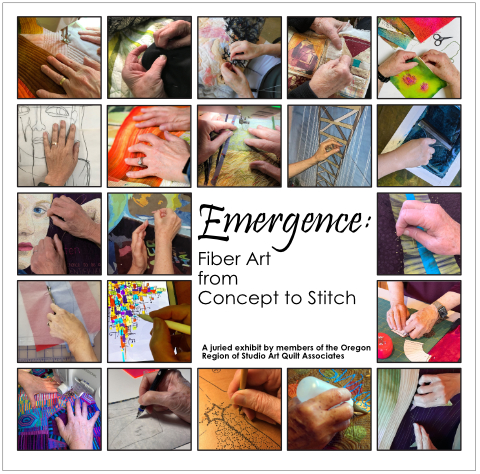 In place of the usual in-person show, the goal of the SAQA Oregon Emergence: Fiber Art from Concept to Stitch exhibition was a book with a fresh spin: focus on the process rather than the end result. The book is an array of artists' stories, photographs, and details about techniques with an intimate view into creating art quilts from the artists' point of view. As in other shows, SAQA members were selected through a jurying process. But this journey differed in that submissions required a written proposal, an artist statement, and images of previous work. The challenge was simple: create an art quilt and prepare your work for publication during a prescribed six-month period.
Read more about this project in this excerpted article from Art Quilt Quarterly #28.
This book is available for purchase on Amazon (digital and print) and venues are being scheduled for in-person viewing of selected pieces. Additional images can be viewed on the SAQA Oregon website.
Exhibition Schedule:
July 22 - September 2, 2022: Philomath Museum, Philomath, Oregon
January 6 - February 11, 2023: Multnomah Arts Center Gallery
February 24 - March 24, 2023: Maude Kerns Art Center
September 27 - October 29, 2023: Pacific Northwest Quilt & Fiber Arts Museum