Colour with a U is a juried exhibition of 35 art quilts and Colour with a U Too is a juried exhibition of 9 art quilts created by Canadian SAQA members.  In Canada, we spell colour with a "u". We care about the "u", it makes us unique. We care about the "you", it brings us together. Forty-four artists have reflected on the theme of diversity and inclusion to give "colourful" representations of our Canadian cultural identity. Each offers an individual perspective on how we as Canadians see ourselves in our social, historical, and physical landscape.
View Narrated Slideshow of Exhibition
Watch Video about Colour with a U Too - Coffee with the Curator
Courtesy of RiverBrink Art Museum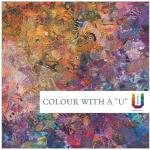 Exhibition Catalogue Available for Sale
The catalogue includes a full page on each artwork plus Juror essays by Faith Hieblinger, Former Curator, Homer Watson House & Gallery and Debra Antoncic, Director/Curator, RiverBrink Art Museum.
Exhibition Schedule
"Schedules may change due to local public health regulations. To avoid disappointment, please check gallery websites for updates and entry protocols."
Colour with a U:
Until Sept 7, 2020: Homer Watson House & Gallery, Kitchener, ON 
October 9, 2020 - February 28, 2021: StFX University Art Gallery, Antigonish, NS 
April 6 - June12, 2021: The Muse, Lake of the Woods Museum, Kenora, ON 
June 28 - October 2, 2021: Museum of Industry, Stellarton, NS
November 25, 2021 - January 9, 2022: Buhler Gallery, Winnipeg, MB
January 29 - April 10, 2022: Orillia Museum of Art and History, Orillia, ON
April 30 - July 2, 2022: Mississippi Valley Textile Museum, Almonte, ON
July 15 - September 2, 2022: St. John Arts Center, Saint John, NB
Colour with a U Too:
Until September 5, 2020: RiverBrink Art Museum, Queenston, Niagara on the Lake, ON 
September 18 - October 31, 2020: Signal Hill Arts Centre, Weyburn, SK 
December 3, 2020 - February 17, 2021: J. Franklin Wright Gallery, Port Hawkesbury, NS
March 16 - April 10, 2021: Agnes Jamieson Gallery, Minden ON 
June 28 - October 2, 2021: Museum of Industry, Stellarton, NS
November 25, 2021 - January 9, 2022: Buhler Gallery, Winnipeg, MB
October 7 - November 10, 2022: Craft Council of Newfoundland and Labrador, St. John's, NL