Broad Spectrum is the follow-up to SAQA Montana/Idaho's 2012 inaugural exhibition Broad Spectrum: Contemporary Quilts of Montana and Idaho. Juried by Desi Vaughn and curated by Cynthia St. Charles, this exhibit was held at Ryniker Morrison Gallery at Rocky Mountain College, Billings, Montana and later traveled to the Denver National Quilt Festival VII.
This year, all members of the Montana/Idaho region as well as SAQA members who chose us as their second region were invited to explore the variety of meanings, images and experiences evoked by the theme Broad Spectrum, and to submit artworks that interpreted the theme in their own unique way.
This exhibition proudly represents the SAQA Montana/Idaho region with works by 21 artists, selected by our juror, Sarah Justice, Executive Director, Paris Gibson Square Museum of Art.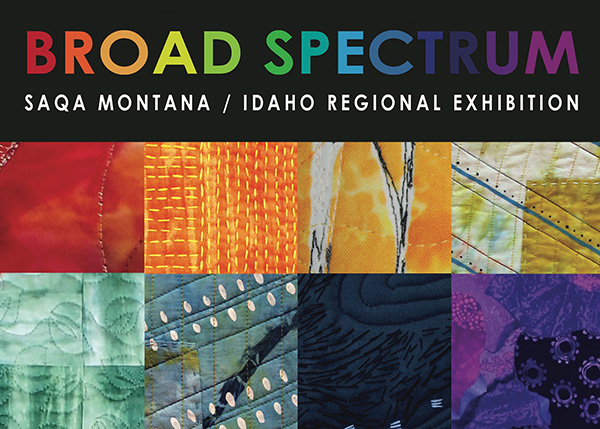 Exhibition Schedule
February 18 - April 14, 2022: Paris Gibson Square Museum of Art, Great Falls, MT

January 7 - February 25, 2023: Hockaday Museum of Art, Kalispell, MT   Announcement Link

March 6 - 31, 2023: Carbon County Art Guild & Depot Gallery, Red Lodge, MT

May 5 - 26, 2023: Schoolhouse History & Art Center, Colstrip, MT

October 6 - December 31, 2023: Holter Museum of Art, Helena, MT