Title
Regional Representative
Location
Little Rock, Arkansas
Bio
I am a mixed media fiber artist and educator based in Little Rock, Arkansas. 
My visual work is idea and story-driven and often connected to words and writing. The art I create is both personal and universal. Driven to pique and poke and ponder, I hope my work invites discussion and discovery and as an educator, I like participates in forums to explore and explain my work within the context of feminist, spiritual, and environmental themes. 
Over the years I have explored many mediums, currently, my focus is on fabric art. Dyeing, printing, and marking my own fabric to create art quilts. I am drawn to the use of fabric and stitch as a reference to the tradition of stitch as a feminine art that clothes and covers and comforts. 
I have a BA in Design from the University of California, Davis, and a teaching Credential from San Francisco State University. I have published writings and art in About Place Journal and Cold Mountain Review and numerous technique and inspiration articles in Quilting Arts and Cloth Paper Scissors magazines. I was honored to be a featured artist on The Quilt Show in 2022 and I teach and present at local, national, and international art quilt venues.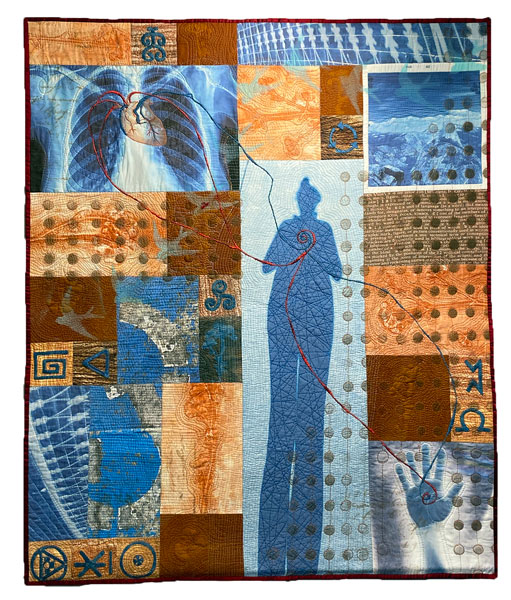 "Shadows and Signs", 42" x 50" (106 x 127 CM), 2022