Title
Regional Representative
Bio
As a child in Chicago in the 60s, I was introduced to creating by my Landladies. From sewing Troll clothes by hand and embroidering pillowcases to making any craft item, I always had busy hands. 2001 I took my first quilting class, and l fell in love. Starting out with traditional piecing and soon went to modern and art quilting. Mixed media with fiber and ephemera has found its way into my world. My ever-growing passion for all things textiles continues, changes, and evolves.
My work has appeared in magazines such as Simply Moderne, Quilting Arts, and Quilty. I had the honor of appearing in two episodes of Quilty TV. I have had quilts travel both domestically and internationally. Several of my works have received awards. My work has also been shown in Galleries in Illinois, Kentucky, and Indiana.
Teaching has been one of my favorite aspects of quilting. Guilds, quilt shops, and doing Open Studio for IQS have been great opportunities to share skills and introduce people to new ideas.
I reside in Beecher, IL. I own and operate Lake House Quilts and Retreats in Cedar Lake, Indiana.
I am a member of SAQA IL/WI and SAQA IN., the Professional Art Quilters Association, Fiber Art Network. Member of McCord Gallery, Union Street Gallery, and Frankfort Art Association. Recently I have served as the Curator of an exhibit at The Crete Creative Gallery.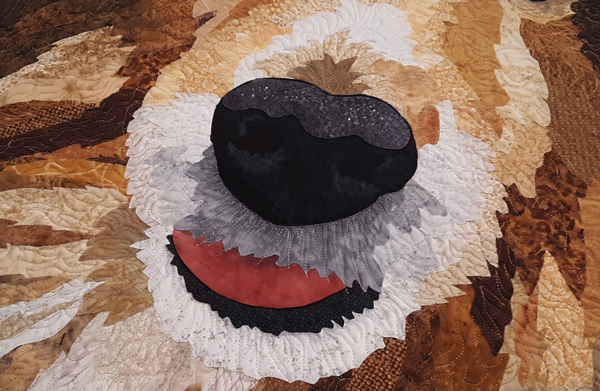 Sniff
20 inches X 16 inches
2019