SAQA is proud to announce a new, three-part series to premiere at the National Quilt Museum over the next six years. Primal Forces: Earth, Wind, and Fire will be open for entry as three separate calls for entry in alternating years, juried individually. The first will be Primal Forces: Earth
All life on this planet depends on earth, it nurtures us through the soil beneath our feet. However, it can be a destructive force as well. Seismic activity and mudslides have shaped the landscape for millions of years and taken a toll on living beings as well. We are in an era of tremendous change in the earth as well, due to shifting balances brought on by human activity.
What do you want to say about Earth? Whether it be warning, tribute, straight forward, all representation or abstract art are eligible subject to the size requirements below.
Premiere Exhibition Location
National Quilt Museum, Paducah, Kentucky
Size Requirements
3D, wearable art, ceiling suspended, and installation work - Height: 130" Width: 60" Depth: 60" Weight: 20 lb. maximum for ceiling suspended works. All art must be engineered to fit through a standard 34" doorway.
Wall Hung – Height: 30" - 90" Width: 12" - 90" 
Questions?
Before you contact the Exhibition Coordinator, please refer to Exhibition Policies and FAQs. Should you need further policy clarification, contact Donna Deaver at PFearth@saqa.com.
About the Juror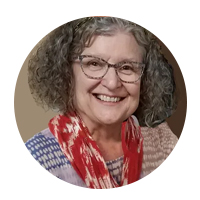 Sue Cavanaugh, a stitcher/gatherer/dyer of cloth for 2 and 3-D works, and installation art, also makes lino prints and draws cartoons. Cavanaugh works by hand with cloth, cord, dye, paint, and occasionally, wood and wire.
Her work has been exhibited in both national and international exhibits at the Columbus Museum of Art, Oceanside Museum of Art, Springfield Museum of Art (Ohio), Ross Museum of Art, Johnson-Humrickhouse Museum of Art, Ohio Craft Museum and Zanesville Museum of Art.