As part of SAQA's ongoing critique series, the SAQA Education Committee invites you to apply for critique with Ann Johnston. Scroll down to view previous critique sessions.
Applicants will be asked to submit pictures of 2 completed pieces for consideration and to fill out a brief questionnaire about themselves, their work, and what they hope to get from critique.
A subcommittee of the Education Committee will choose the participants from the pool of applicants. Works will be selected to provide variety  in genre, stage of the artists' career, critique questions, etc. to  provide a richer educational experience for Webinar viewers. Selection  will not be based on subcommittee artistic evaluation of submitted work.
Applicants must be available to be recorded (via Zoom) on Thursday May 19 at 2pm Eastern Daylight time (GMT/UTC-4). This recording will be posted on the SAQA website in late May. There is no live Q&A event planned.
About the Presenter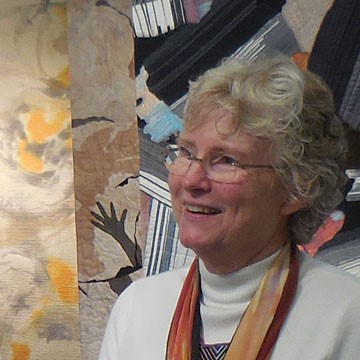 Ann Johnston attributes her artistic interests to an open mind and her desire to keep learning, independently and continuously. Her books, workshops, and lectures about dyeing and designing have been trusted resources for fiber artists for many years. Her ongoing mastery of color and texture and design produces powerful work that draws in her viewers, students, and collectors. See www.annjohnston.net for images and videos and on Instagram @annjohnstonquilts.