Virtual Gallery of selected pieces available for viewing January 1!
Landscapes, portraits, and nature can often be reconfigured successfully using geometric shapes.  Or a geometric construction may resemble a real-life form.  Alternatively, the subject of a quilt can be given prominence if made of geometric shapes on a background that is free flowing.  Or a geometric background that resembles in some way what it represents can be effective.  
Let geometric shapes sing.  Straight-edged triangles, squares, rhombuses, hexagons, to mention a few, curved shapes such as ellipses and spirals, and/or non-standard shapes.  Traditional quilt blocks could be incorporated.  Sophisticated geometric constructions including fractals might be your specialty.  A major impact of submitted works must be the artistic use of geometry.
THIS CALL IS FOR AN ONLINE GALLERY
Open to all SAQA members
No entry fee (up to 3 entries per artist)
No size or date restrictions
Because this is a virtual exhibition, it is critical that submitted images be of the best possible quality: in focus, with clear details, and following SAQA's digital image requirements. Please read Virtual Gallery Submission Guidelines for more details.
We have prepared a handy resource of  Tips for Successful Art Quilt Photography
About the Curator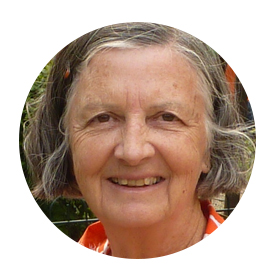 Pat Forster entered the art-quilt world ten years ago, bringing with her a love of Geometry, which is a carryover from her career in mathematics. Pat's quilt designs are grounded in Geometry. She plays with shapes, letting real-world subjects emerge, and uses quilt titles to convey those subjects to the viewer. Alternately she addresses subjects, including social issues, by embellishing a geometric design with machined text.