Location
Prairieville, Louisiana
Bio
I began learning to sew at the age of 10 from my mother who created beautiful holiday dresses and coats for me and my 2 sisters. My first real sewing project was in 4-H - a skirt with an elastic waist and a square fringe edged shawl. As I grew older I designed and made many of my own clothes which continued until well into adulthood. During the 1980's I attempted my first quilt using scraps from my garment making. Having no idea of how a quilt was made, I began making a king-size quilt for my bed using simple square patches in diagonal rows. About halfway through the quilt I had a huge triangle but had run out of fabric, not knowing that scrap quilts meant you could add other fabrics I never completed the quilt. That quilt found its way into the trash bin.   
Soon after a move to California, I took my first quilt class to make a bed size traditional sampler quilt. I enjoyed learning the techniques but did not enjoy the precision required for a traditional quilt.
 Living in the bay area I was fortunate to belong to a large quilt guild where I took many classes with some wonderful quilting teachers. But I did not enjoy traditional quilt making. After taking a class with Rayna Gillman my ideas about quilt making changed and art quilting opened a new world to me.  Cutting without rulers and sewing without the worry of matching seams and precise stitching was exactly what I needed, I knew I had found my voice.
For a number of years my career consumed most of my life, but retirement gave me the time to pursue my dream of creating art from cloth.  Working with color, using my photos printed on cloth, painting and dyeing fabric, and adding embellishments of buttons, beads, bits of yarn, and thread to create my small quilts fills my heart with joy.  
I am always searching for new techniques to incorporate into my pieces and have recently discovered a boro style of stitching, which I now use to create quilts on found and recycled fabric, as well as, my hand dyed and printed fabric.   Using those simple, random stitches moving across the fabric has become part of my meditation practice.
Moving from California to Louisiana in 2017 I am entering a new phase in my life.  I want to keep exploring and creating, and through quilting, I find making connections to new friends who love fabric and art as much as I do is creating my new tribe.
Every day is a new beginning – live, laugh, and love.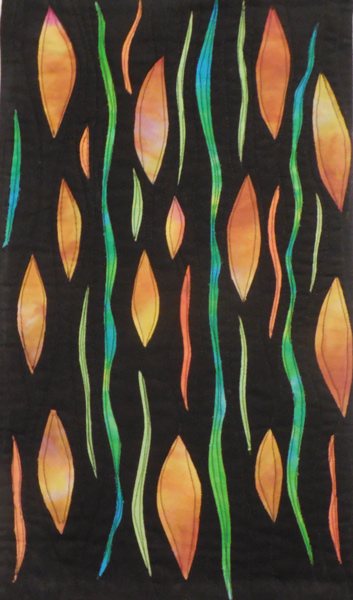 Serenity II 17" x 11" 2015