Title
Regional Representative
Location
Portage, Michigan
Bio
I have been in love with fabric my entire life. My Grandmother taught me to sew when I was five; when I wasn't outside climbing trees, I would play with dolls just so I could sew for them. By the time I was 11 years old, I made my own clothes. In college, I began sewing for others to help pay the bills. While I was a student, I took a quilted vest class with my mother (food was promised!!). We both walked out of that class in love with quilting.

I began my journey as a "traditional" quilter over 35 years ago, learning the basics from books and local quilters. As my knowledge and skills grew, I realized that I did not particularly like following the "rules". Nor did I want to make quilts exactly like anyone else. While I still enjoy making bed and gift quilts, I have come to love the freedom and excitement of art quilting. In this art form, I am free to express myself, challenge myself, and grow as an artist. My faith and my love of the natural world have a profound influence on my work and guide me on my journey as an art quilter.

I joined SAQA in 2018. Since that time I have loved being a part of this group. I entered my first juried exhibit in 2019 and hope to enter many more in the future and to eventually become a JAM. Maybe someday I'll make it into Quilt National. I live in Portage, Michigan with my husband Jim and our rescue dog, Sheba.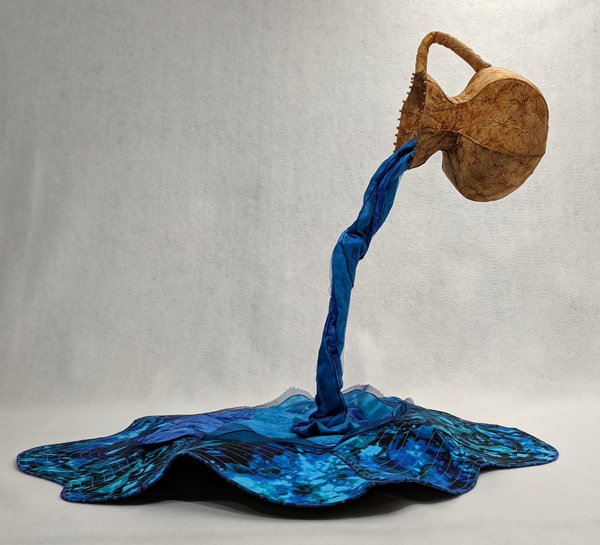 Miriam's Well, H: 24", W: 24.5", D: 29.5", 2019