Bio
In the fall of 2019, we moved from an off-grid ranch near the mountains close to Canon City, Colorado, to the small town of Emporia, Kansas. My husband and I brought all of our rescue animals (horses, goats, dogs, and cats) with us. Our new set-up is easier, and we are closer to civilization. I was a member of the CO-WY-UT SAQA Region but, because of where I lived, I could not participate much. Now that I am in Emporia, Kansas, I feel I can participate more. I still have the demands of continuous care of our rescued animals, but my husband is very supportive of my quest.

I have always been interested in art, but I am relatively new to the world of art quilts and fiber art. I made my first quilt around 2004, using a pieced kit that I personalized with applique. I quickly gravitated to art quilts. Now I love the challenge of merging pigments with fabrics and using stitching to create either photo-realistic or whimsical pieces. I call my technique "Pigment Patchwork".

Every piece of art that I create gives me the opportunity to learn more about the diversity, complexity, and addictiveness of using fabric, pigments, and stitches to create a statement. Oftentimes, when people see my art pieces, they are amazed that they are not paintings. From my perspective, they are. However, instead of just pigment, I utilize a multitude of different fabrics and the dimensionality of stitching to add to and enhance my art.

I am on a continuous journey to explore the possibilities of using fiber art to focus attention on the concept or idea I have chosen to represent. I love to share my techniques and enjoy tutoring others in the journey of discovering their own creative voice.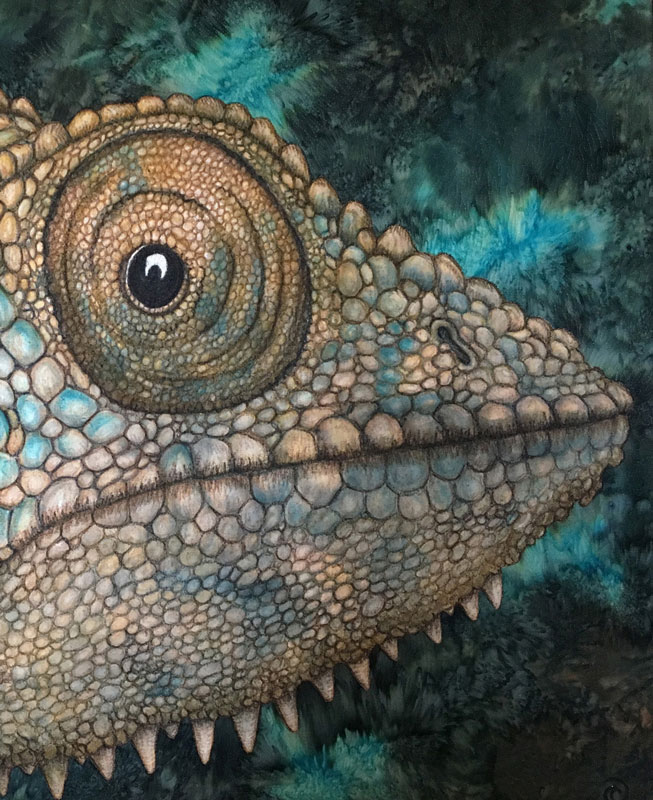 Chameleon - The Eyes Have It 30" x 40" 2017