Location
Acton, Massachusetts
Bio
I have been an artist all my life. In High School, I was an "art major" in my Junior and Senior years. This meant double periods in the art room multiple times per week and I was in heaven! I painted, got interested in photography and created batik-like silk paintings. I went on to earn a BA in Art History from Tufts University while taking studio classes at the Boston School of the Museum of Fine Arts including metals and stained glass.

After graduating from Tufts I ran a successful graphic design business for 25 years. I was also a resident artist at Emerson Umbrella in Concord, MA.

Once my son entered elementary school, I went back to school and earned my MBA from Simmons School of Management and then also completed a post-graduate Entrepreneurship Program and an internship with a woman-owned business. 6 months later, I opened Create! Sewing Studio based on the business plan I created in my MBA program. The mission of Create! Sewing Studio: to encourage creativity in children, teens & adults through the medium of sewing.

After 11 plus years of running the sewing studio and teaching as one of the instructors, I felt a strong need to do more of my own creative art. I was surrounded by a staff of sewing teachers, many of whom were quilters, but I was not interested in making traditional quilts. Then last year around this time I visited the N.E. Quilt Museum in Lowell and I saw Susan Carlson's work. It was truly stunning and I was inspired to design my own art quilts. Using her books and online resources I started designing my own textile pieces. I have now designed 3 art quilts and I am developing styles and techniques of my own.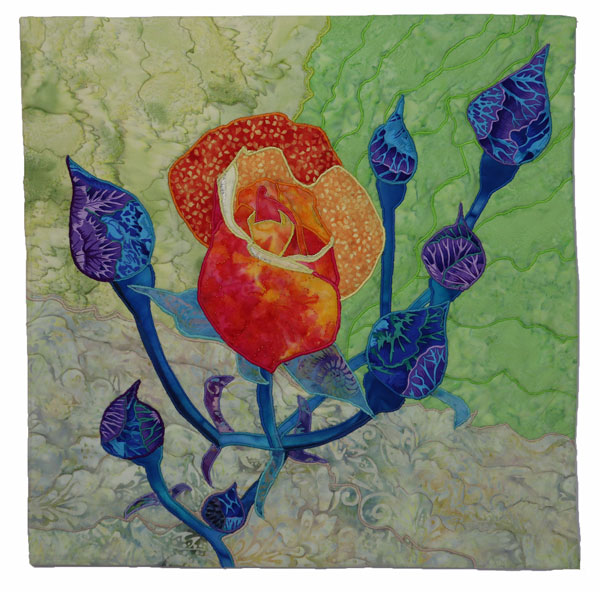 My Little Rose - 20" x 20" (2019)