Title
Regional Representative
Bio
​I work primarily in a realistic, literal mode. My work frequently includes dramatic and electric colors of dye paints that convey a vibrant image and visual message. My art quilts are inspired by photographs of people and family members beckoning me to replicate them in cloth. The dye painting process and the utilization of varied thread colors aid in bringing my subjects to life.
 
​Even though most of my work yields realism, it has not hindered my spirit of creativity. The ability to capture the human figure especially emphasized in portraiture affords the viewer to deeply connect with the work. The dye paint colors are executed in brilliant, vivid colors.
 
​"If my work evokes some sort of connection, curiosity, question, or thought from the viewer, then my artistic journey has been a success."
 
​I strive to reach beyond myself by creating design elements that direct the viewer's focus. Spatial arrangements and thread colors are used to place emphasis on highlights and shadows. These unique artistic elements are pleasing to the audience as well as the artist.
 
​My work is exhibited in various group shows, special installations, museums – Carnegie Center for Art & History in New Albany, IN, 2021 Form Not Function, private collections, and is included in publications through Sacred Threads, 2019, Eye Contact: Making a Connection.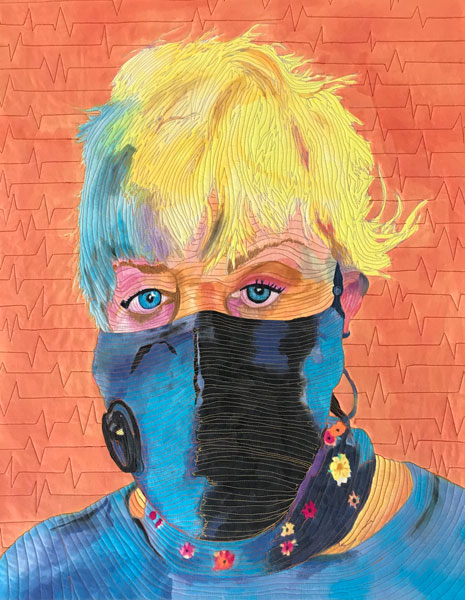 Riders on the Storm
22' x 20"
2021