Location
West Chester, Ohio
Bio
I have been sewing and stitching most of my life. I grew up in Urbana, Illinois, the child of two artist parents. From a very early age, I found cloth, thread, and needle the best way to work artistically or at least creatively. I would make things and then show my mother who would take my hands in hers and with tears in her voice say, "your grandmother would be so proud of you". My maternal grandmother and great grandmother were both seamstresses, and my great grandfather was an itinerant tailor who, with his wife and children went from wealthy Russian house to wealthy house and sewed the clothes for the family. It is in the genes….
While everyone else seemed to take lots of math classes in high school, I took art through all of high school, and my teacher would enter all of her students in the Scholastic Art show each year. I got my share of ribbons and pins and did actually receive the Hallmark purchase prize for a watercolor I did as a senior. But one could not get the purchase price for textile work. This upset me because even back in high school I felt that fiber art was just as much an art form as painting and drawing. One day at a University of Illinois faculty art exhibition, I was sitting on the stairs of the Krannert Art Museum watching all the people looking at the show. One of my parent's friends and fellow professor, Jack Baker, stopped to talk to me. I told him I wasn't as much of an artist because I couldn't paint and draw as well as I could create with thread and cloth. He told me that my stylus was a needle and that was as much a stylus as a pencil, pen, or paintbrush! I am still a militant fiber artist, although I try very hard to be diplomatic about it. 
Through high school my medium of choice was embroidery. I struggled with what to do in college but eventually found Eastern Illinois University where I was able to minor in crafts – weaving and finally graduated with a bachelor's in art history/ weaving. It was after adopting four hard-to-place children thirty years ago that I switched from weaving to piecing and have never regretted it. 
The wonderful thing about quilt making is the scraps. I do not throw out many of them either. They just keep piling up in another plastic container and end up on a shelf. Then I take the time to try to make an orderly arrangement of them and sew them together.
Jack Lenor Larsen stated that if one wants a red piece of cloth to really be "rich in color" one has to have one warp thread be red and one orange. This reminded me of all those wonderful Impressionist and post-Impressionist paintings at the Chicago Art Institute. The observer's eyes mix the color!  I use that premise a lot in my work. Whether my work looks semi-traditional at times or very abstract, my hope is that my love of color and design will give joy to the observer.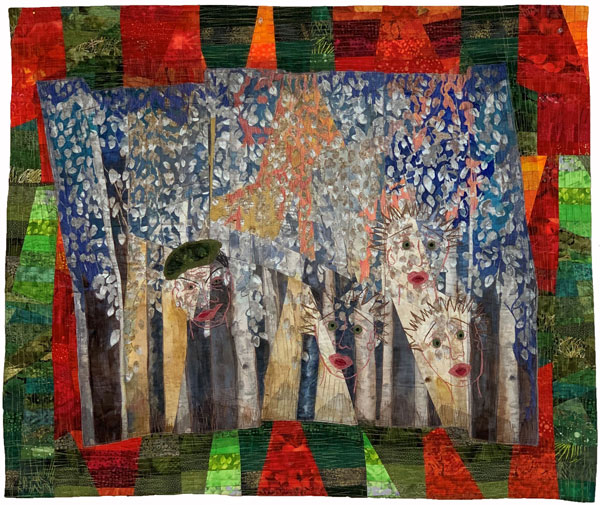 Fear in the Forest  - 40" x73.5" 2018