Location
Bethesda, Maryland
Bio
  I am an architect and love anything textile related. My fascination with design began in elementary school and continues to this day. Quilt design is a natural transition for a professional architect who loves to manipulate fabric and worked in various sectors of Design and Construction. The architect's eye is beneficial when working with the layout and geometry of a new quilt. My design work is developed with a holistic, cerebral approach; assembling fabric of various colors and prints that result in a unified statement, rather than a simple assembly of pieces.

I have a Master's of Architecture degree from the U of Nebraska, having worked in various sectors of the profession. Over the years my interests shifted to fiber arts, I am now a full-time artist, my work has received national recognition and awards. Most recently, my work has been in the: 2015 Cherrywood 'Wicked Challenge', 3rd Biennial Maryland Regional Juried Art Exhibition at College Park, MD, Fly Me to the Moon exhibit and book, 2016 Creative Crafts Council exhibition in North Bethesda, MD, HERstory exhibit and book, 2017 Nebraska 150 Challenge at the International Quilt Study Center in Lincoln, NE, and 2017 Cherrywood 'van Gogh Challenge'.

My quilt-related volunteer activities include: 8 quilts honoring my hometown were auctioned to raise money for a perpetual scholarship from my High School Class. Programming Chair for a local quilt guild, PM Fiber Arts, acting as the liaison for guest speakers and overseeing monthly programs for three years. Presently, I joined the SAQA Development Committee and administer SAQA – Members Only Facebook Group page.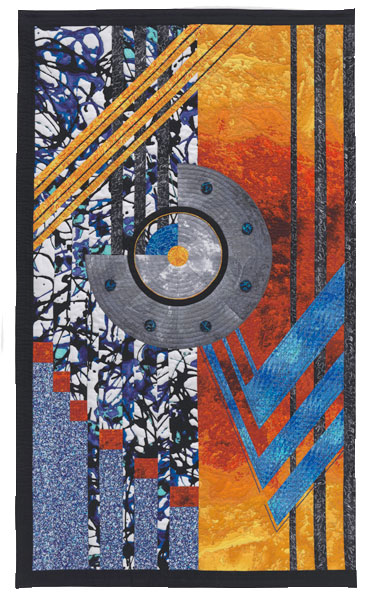 Urban Deco   48" x 28"  2015