Location
Milford, Connecticut
Bio
My favorite topic to teach is quilting. I enter each classroom setting with the hope of gaining new perspectives through the eyes of my students, always on the lookout to take home a new technique or idea. Combining my knowledge of curriculum writing, my training as a teacher evaluator, and my love of quilting, I have begun a small business, Quiltings By Kathy, focused on designing patterns encompassing a wide variety of techniques and materials.

Fabric art quilting is my passion. As I look through the lens of my camera, I envision how I might recreate the view using fabric and mixed media techniques. I prefer to paint my own fabric, whether it be using Pebeo Setacolor paints, Shiva paint sticks, Derwent Inktense blocks, or adding detail and shadows with colored pencils, markers, and threads. "Quilt, as desired" no longer, makes me shudder as I used my years in education to devise a systematic approach to building free-motion quilting skills. In addition, I am always looking to use authentic materials in an interesting way.

My love for quilting has brought a world of enjoyment my way over the past many years as quilters have generous hearts, intuitively listen as friends, share their coveted scraps with a smile, trade ideas, and appreciate each other's hard work and talent.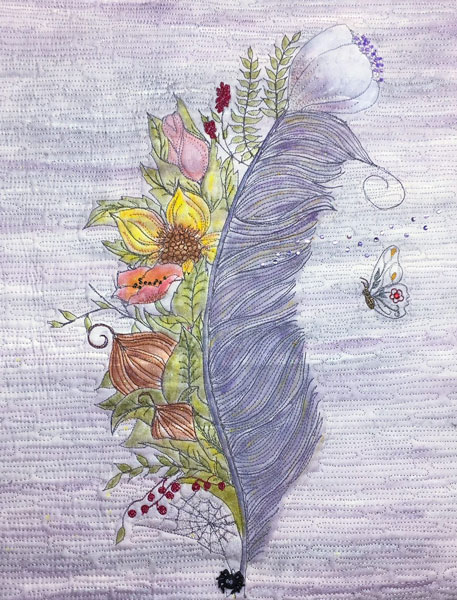 Abundance 18" x 12"  2018