Location
Portland, Oregon
Bio
Art is communication. I have written all of my life, stories about people, places, and ideas. My visual art is another way of communicating. Line, shape, color, and texture tell the story whether it's my impression of a field of flowers at twilight or the life-shattering event when my grandmother left behind her Mennonite community.

Research is one of my greatest pleasures in designing artwork. I gather information about my subject through my own photography, on-site sketches, on-line and print images and text, and conversations with people connected to the subject. A combination of sources helps me better communicate thoughts and emotions, leads me through a more satisfying process, and enables me to create more complete and thoughtful art.

My recent artwork is representational. Rather than being realistic, it has a cartoon-like quality. Embroidery, hand, and machine play a large role in my work. I embroider to emphasize or create motifs, add texture, and provide the viewer with an additional layer of interest.

My materials include fabrics, both found and my own hand-dyed, but I may also incorporate paper and other materials resembling fiber. Choices depend upon design and composition.

I have had two solo exhibits: the Rocky Mountain Quilt Museum and The Oregon Garden. I completed a public commission from Clackamas County for Oregon's Sesquicentennial and have received two Personal Development grants from The Regional Arts and Culture Council.

I am a graduate of the London City and Guilds College of London, England, and studied at the Lesage School of Needlework in Paris. For seven years, I was a contributing editor of American Quilter Magazine. As a Qualified Instructor for the National Association of Certified Quilt Judges, I teach their Two-Day Judging Seminar. I have a Bachelor's Degree from Montana State University in English with a minor in Business.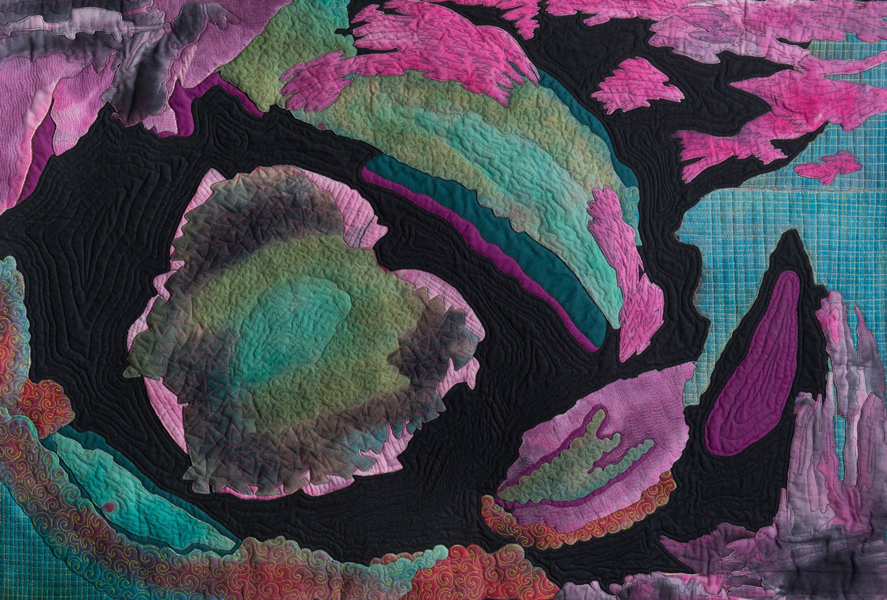 Terra I, 2017, 27.5" x 38.5"