Location
Margaree Valley, Nova Scotia
Bio
I am a self-taught textile folk artist working with cloth to make fine art quilts and traditional hand-sewn textiles.  I have been dabbling in fibre ever since I can remember only I didn't know it was art. I made little pictures for myself in high school and for my kids later on. My first love has always been handwork – and colour, lots and lots of colour. I was fortunate enough to travel widely through my husband's work while homeschooling our three children. This gave us access to wonderful libraries, museums, art galleries, and regional textiles. I studied, practiced, and honed my craft. 
When we became empty-nesters, I turned my hand full time to the fibre arts, having decided to make a go of being a practicing artist full-time. I busied myself experimenting with a variety of materials, styles, and techniques and began entering juried shows; locally, nationally, and internationally, for which I won several ribbons. 
In 2009, we moved off-grid to a cabin in the woods in the Cape Breton Highlands, Nova Scotia, to get our bearings and figure out what the next chapter in our post-children lives would be. I continued to develop my quiet handwork surrounded by big nature and joined local quilt guilds for the first time. The camaraderie of the women and the tranquillity of the deep woods contributed greatly to my well-being and sense of self. With renewed confidence, I began to make a series of small landscapes depicting our immediate surroundings, and my individual voice as an artist began to emerge. I had always thought of my work as folk art first. So I approached local folk art galleries to see if they would show my work. They did and continue to support my efforts. 
 My love of the needle arts continues.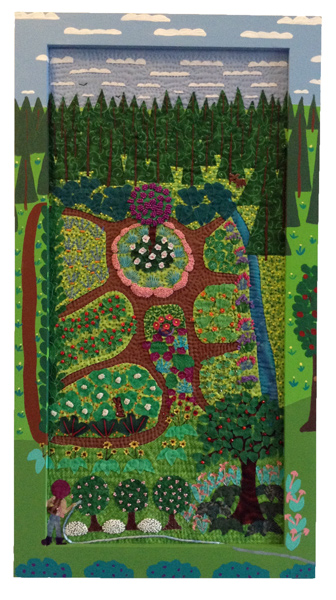 My Hundertwasser Garten; 15" x 27", 2019