Title
Regional Representative
Bio
Having been raised by a mother whose passion was fashion design, I grew up surrounded by sewing projects, loving fabric, and its unique, mailable potential. I began quilting like so many others using traditional patterns and methods. However, I've always loved art and the freedom of expression it provides. The progression to experimenting with art quilts was a natural fit for me.
In 2005 I returned to college and pursued a degree in Art, one of the best decisions I've ever made in my personal growth. I don't believe everyone needs an art degree to be a successful artist or enjoy art. For me, it was part of my journey which opened doors to hands-on exploration with different media and techniques, honed my skills, nurtured my trust in my creative vision, guided my understanding and appreciation of other artists' work, and the opportunity to be part of a creative community.
I've been a SAQA member for over 20 years now and believe SAQA is a major part of my continuing education, artistic journey and provides me with membership in a vital, artistic, global community.

I love working on compositions that tell a story, stories about landscapes, architecture, and their impact on one another. My work has also included figurative quilts about relationships and capturing individual moments in life. My work has been shown both nationally and internationally in SAQA shows and publications that have included Seasonal Palette and Martha Sielman's People and Portraits. I've completed commissions, had work purchased by private collectors, and is featured in public spaces.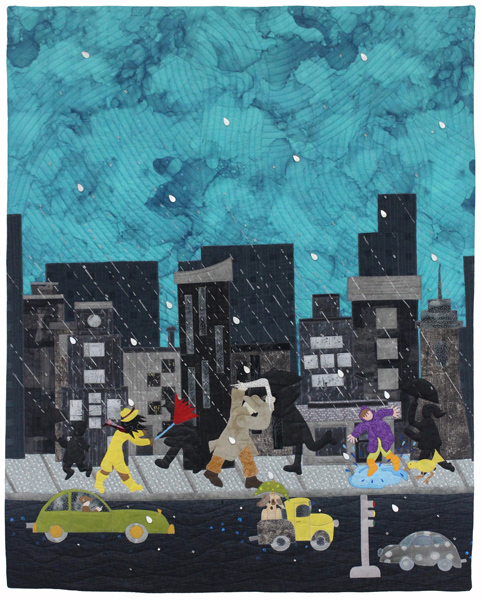 Rainy Day Ballet, 34"W x 42"L, 2021