Location
Philadelphia, Pennsylvania
Bio
Originally from Baltimore, I have always been less Baltimore Album and more Crazy Quilt. As an editor for McCall's Needlework & Crafts magazine, I was inspired to make a bed quilt in 1982--my first, and my last.  I soon left tradition in the dust and sampled every quilt-related technique I could find, putting my own spin on each one. From 1978 until 2012, I authored, edited, and produced best-selling books, and still take pride in the beautiful photo-styling, inviting descriptions, and accurate, easy-to-follow directions. Among these titles are the Rodale's Successful Quilting Library series, Great Little Quilts, Country Living's Country Quilts, Quilt Blocks Go Wild!, Unforgettable TOTE BAGS, Skinny Quilts & Table Runners and its sequel.  All feature my original designs as well as contributions from well known, beloved quilters--several distinguished SAQA members among them. American Quiltmaking: 1970-2000 is my history book, and the subject of one of my presentations, A Magical History Tour. I often present trunk shows and workshops to guilds and groups and have recently segued into live, online programs in the U.S. and Canada.

For my own quilt art, I am hard-wired to push the envelope, incorporating recycled packaging and vintage textiles, unusual shapes, various surface design effects, and political statements. I am thrilled to have had work accepted into two SAQA exhibitions: Textile Posters and 3-D Expressions. 

Home is Center City Philadelphia. Son Sam and daughter-in-law Bev live in Denmark, giving me an excuse to visit with Bodil Gardner…and recently, a reason to make a baby quilt.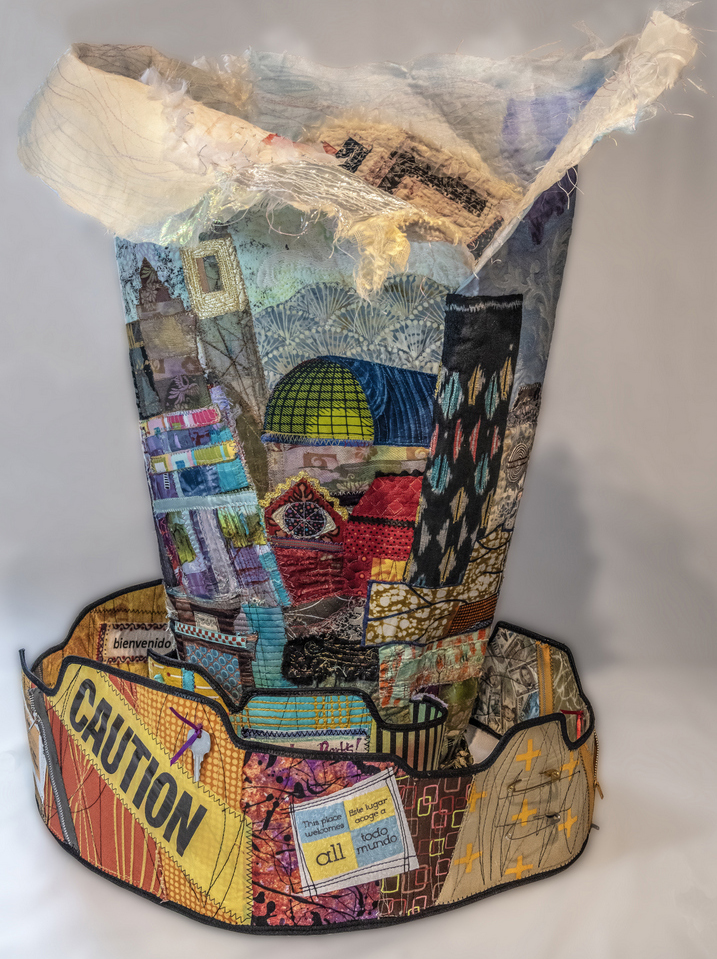 Sanctuary City, 28" high, 25" wide, 22" deep,
2019