Location
The Villages, Florida
Bio
I have been a quilter for many years, an observer of nature and art since childhood.  Through painting in various forms, some photography and through gardening I have worked to study nature more closely. It has only been in the past few years that I became aware that there was a way to combine all of these interests in the unique form of the art quilt. 
This awareness has sent me on a journey of discovery.  Having little formal training in art I have learned through reading, workshops, the internet and experimentation.  Inspiration comes chiefly from my own photographs of nature and my general surroundings.   I may paint a color wash or create a pieced background depending on the subject.  I may use raw edge applique, adding layers of fabric pieces, using mostly batiks and hand dyed fabric, paint, and colored pencils to create depth.  Other times I will create whole cloth quilts on which I paint or use colored pencils to draw and blend color developing an image that is not quite representational yet not abstract either.  This is intended to encourage the viewer to take a closer look.  Rather than fully reproduce the photographic image, you will find a bit of mystery where there is something left to the viewer's imagination in my work. Free motion quilting is then used to add texture and interest to each piece.    
Creating art quilts brings me great joy and a deeper appreciation of the world around us.  My intent as I continue my journey is to share some of that joy with you the viewer and to inspire you to take a closer look at your surroundings and perhaps see things in a new and different way.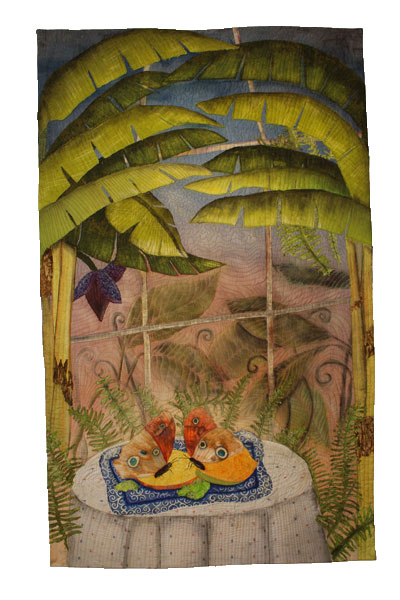 Dinner for Two in the Conservatory 51" x 31" 2018