Title
Regional Representative
Location
Sierra Vista, Arizona
Bio
I received my art degree from the Art Institute of Colorado in 1978. Since then, I have been creating art in many forms; oil, watercolor, pen and ink, charcoal, ink, mixed media, and fiber art. 
I began quilting 30 years ago, and although I love to create quilts, my love of art moved me into Fiber Arts, launching DJ's Fiber Arts. I am an award-winning fiber and multi-media artist, creating fiber art quilts, painting my own fabric, and embellishing quilts with different fibers and media such as silk, wool, paints, beads, and more. I love sharing my knowledge through unique and exciting classes, introducing students to the amazing world of art quilts. My motto is – "NO RULES, JUST ART"
I am a native of Colorado and moved to Arizona in 2019. I worked for 30 years in the corporate world, working directly with Bill Gates at Microsoft for the last seven years. I have BS Degrees in both Computer Science and Business Management. I am married to my wonderful husband and "Creative Director," Kevin, and we have two sons and three grandkids. I love going for long walks and having ice cream with my two four-legged kids when I am not creating.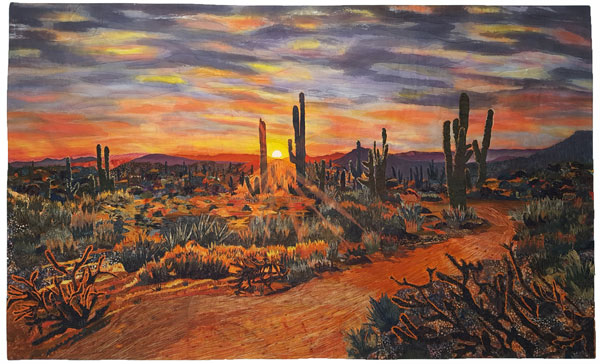 Day Into Night
62.5" x 37.75"
2021