Location
Kennewick, Washington
Bio
My name is Catherine Bilyard, my passion is quilting as an art form. I love and feel color, making it difficult to make it through a quilt shop without buying much more than I need. I consider myself to be a storyteller, rulebreaker, and photo manipulator.
Most of my work incorporates the use of unusual fibers of textural elements. Sometimes I even use what others consider garbage. I thrive on learning from other quilters and believe if I get just one wonderful "pearl" from a class, it has been worth my money.
I have belonged to a couple of Art Quilt groups with very talented, motivating artists. I have learned so much through being associated with them.
Three years ago, I joined Montana/Idaho Regional SAQA. The leaders in that group brought SAQA alive and made it a wonderful experience for me. I felt like a member of an international organization with common interests and met creative people through subgroups that were all willing to share their talents with other members. I learned so much about the workings of staff at SAQA headquarters and have found out how lucky we are to have such a great organization supporting us to bring quilting as an art form for the whole world to see.

I now wish to be a part of the active members that bring art quilting to the forefront for my Region as I move back to Washington State and look forward to meeting and working with the members of the Washington Region of SAQA.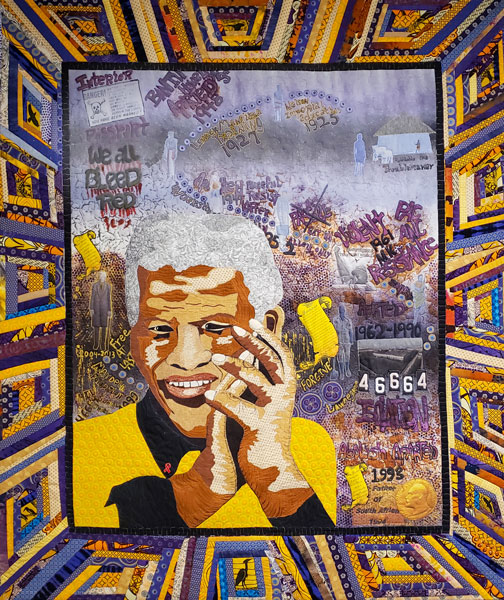 Against All Odds: Nelson Mandela- "From Prison to President"
60" X 51"
2021