Location
Anchorage, Alaska
Bio
I am a self-taught mixed media fiber artist and quilter. I combine fabric, thread, paper and found objects to create art quilts, fabric books, journals and other stitched creations.  My artwork has been featured in publications such as Art Quilting Studio, Sew Somerset, American Quilter Magazine, and Somerset Holidays & Celebrations.  
For my art quilts, I add raw edge appliqué girls (boys and animals) on often fraying backgrounds because life doesn't consist of neat, pressed, hidden edges.  We all unravel at times and embracing imperfections instead of trying to fix them is much more fun.   Each girl (or boy) is created from several fabrics and embellished with thread, found objects and sometimes a dimensional dress that literally pops off the quilt.   Text print fabrics are used for 'skin' to depicts the stories, memories and wonder we each carry with us. Each of my art quilts is an adventure of happiness.
In addition to art quilts, I draw with thread to create tiny portraits that capture a moment or a feeling.  I also design art quilt patterns and text print fabrics and teach classes on showing the world your creativity with fabric and thread.  I live in Anchorage, Alaska with her husband and three cats.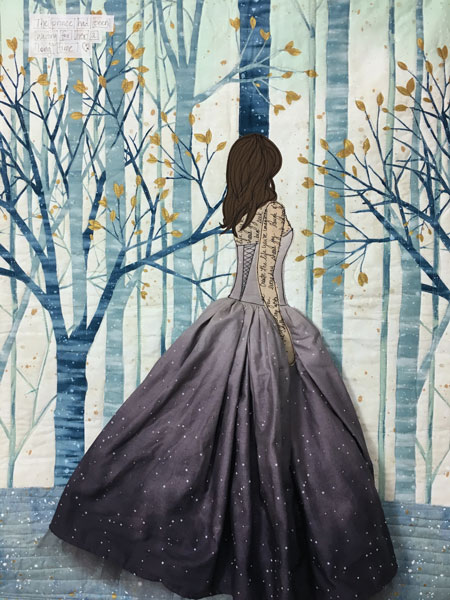 The True Bride 36" x 26" 2017