Location
Saint Paul, Minnesota
Bio
Building a story in quilts is so compelling to me. If I can trigger a response that makes you do something good or be a better person, then I have succeeded. Topics of history and the underground railroad, feeding the poor, a community coming together for a simple bus ride, encouraging people to vote; these topics are universal. I'm not a demonstrator or a public speaker, but I can influence people's decisions if I can get them to really look at my quilts
My quilts have evolved from a traditional 16-patch pattern to an irregular-shaped picture quilt. Somewhere in the middle of this transformation, I went from "pretty" quilts to quilts with meaning. My people quilts started out with batik fabrics that held the most variety of colors for shading faces.  Raw edge appliqued was the technique used with this batik. More highlighting is added with permanent markers, giving dimension to smaller areas in faces. The first people quilt was "Feed My People", portraying many hungry people in a park with an iron fence that keeps them from reaching good food. The "Bus Stop People" then walked out of their rectangular-shaped quilt to freedom. These people are individually hung, in a group, as though they are on the sidewalk, waiting for the bus. I don't know of any other quilter who has given their characters this freedom. I changed my technique for my current project, "The Voting Line", to painting the faces with Inktense pencils and reverse appliqueing these faces to the black fabric where I can finish the heads and hair by raw-edge applique. Using the Inktense pencils gives the faces a more life-like appearance than applique. The head is then sewn onto the rest of the body.
In "The Voting Line", I hope to show a cross-section of humankind, some anxious, some bored, some oblivious to their surroundings, but all there for one reason – to vote. "Dave", the construction worker, is so caught up in a yawn that his eyes tear and his feet tingle. Have you ever been that tired? I see "Astrid", weak from cancer, yet grabbing her chance to change the world with all the might she can muster. In all of these projects, I see humanity, struggling to "make things right". If art leaves you with a breathless smile at its beauty, with a tear in your eye from its despair, with a leap of faith that all the bad stuff will go away, then art has done its job. My hope is that my art will do such things for the viewer.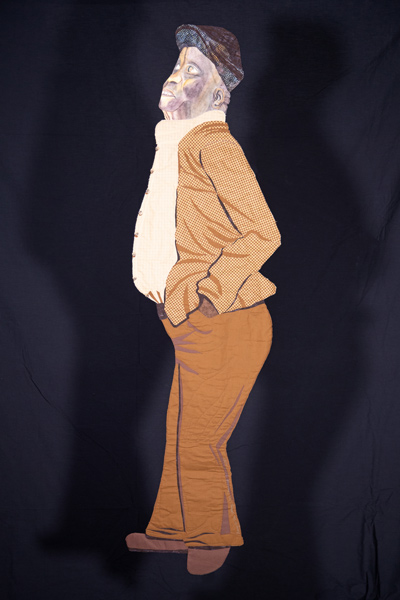 "Henry" (2019) from "The Voting Line", (2020). 5'10", Henry is part of 25 quilts, a total of 27 people, standing in line waiting to vote.