20-75% off - Only while supplies last!
Need some gift ideas for the holidays? Check out the SAQA Store for great discounts up to 75% off.
Introduce a friend or colleague to the benefits of SAQA with the gift of a year-long membership. Give Now
Interested in purchasing artwork for your collection? Many pieces from SAQA's Global Exhibition program are available for sale
---
Featured Product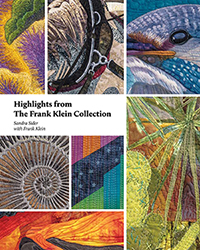 Highlights from the Frank Klein Collection BRAND NEW!
Texas rancher, photographer, and conservationist Frank Klein purchased his first art quilt in 2014 when he visited the SAQA "Celebrating Silver" exhibition at the International Quilt Festival in Houston. Since then, his collection of art quilts has grown to over 200 pieces. Many of these pieces are highlighted in this publication. 
Limited copies available.