Florida SAQA would like to provide an update on our Fresh Fish project. We are so grateful for the huge response, which enabled us to meet our goal for the display at the 2022 SAQA conference in St. Petersburg.  Every fish piece that was received (over 250!) will be exhibited at the conference.
The committee has completed the jurying for the book, and we congratulate the following artists and poets whose work will be included in our Fresh Fish book.  The book is 90 pages, has 97 pieces of artwork depicted, 39 poems, and represents textile artwork from SAQA members across the US and internationally, and poets from across the US.
For questions, please contact Karol Kusmaul at karol@kquilt.com.
This book can be purchased via Amazon.
Other Amazon links:
About the Book:
Textile artists, all members of Studio Art Quilts Associates (SAQA), created a colorful, diverse array of underwater creatures: fish, mermaids, octopus, manatee, turtles and more. The work of selected poets combines with these creatures for a collaborative exploration of underwater life: words and rich visual images enhancing one another. This project of SAQA Florida region explores many aspects of life in the water. Artists express interest in colors, silence, interconnectedness, imagination and environmental concerns. The book contains 97 unique works of art and 39 poems. The textile artwork included exhibits a wide range of artmaking and surface design techniques, including hand stitching, machine quilting, embellishments, screen printing, painting, embroidery, applique, fabric dyeing, and 3-D construction. It's a rich dive into creativity.

About the Fresh Fish project
Creating a display of artist-created fish and other underwater life forms was inspired by the Global Conference of Studio Art Quilt Associates, to take place in spring 2022 in St. Petersburg, Florida. To welcome artmakers and art quilt enthusiasts from around the world, SAQA artists created a colorful array of small works. From that, the idea evolved to depict the Fresh Fish in a book and to have that book feature both the textile works and poetry. The 2022 conference theme will focus on bridging the gulf between art quilts and fine art. What better way to put this into practice than a creative collaboration with a literary art form?
Poets (both SAQA members, and non SAQA members):
Alligood, B.J.
Annino, Jan
Baugh, Bobbi
Campau, Kat
Clark, Hilary
Coats, Mitzi
Craig, Sonja Jean
Davidson, Marc
Decker, Kathleen
Diamond, Linda Eve
Dreier, Elizabeth A.
Ferrie, Joyce
Lambramont, John
Muchhala, Carolyn
Person, Elaine
Polk, Christy
Riffle, Nancy Wegmann
Schmidt, Dale
Shapiro, Gregg
Shaw, Mary K.
Spragins, Elizabeth Spencer
Stanton, Kay
Wallace, Beth Frisbie
Wax, Phyllis
Westbrook, Mary Ann
Artists (SAQA members worldwide):
Aske, Terry
Axelson, Lys
Baugh, Bobbi
Bayham, Yvonne
Bayne, Karen-Eve
Belsky, Nancy
Bennet, Diana
Bolduc, Sarah
Boncek, Annette
Borowy, Kim
Brandt, Janet
Brewer, Susan
Busic-Snyder, Cynthia
Campau, Kat
Casaday, Gail
Cashatt, Deb
Cashatt/Sazaki, Deb and Kris
Conley, Vicki
Content, Judith
Crossley, Kate
DiTota, Gabriele
Dobson, Nancy
Dodson, Lisa
Dowdell, Michele
Dunn, Regina
Ellis, Joanna
Findlay Wolfe, Victoria
Geiger, Linda
Ginn, Martha
Grapes, KC
Green, Peg
Grice, Pat
Hall, Louise
Hess, Carol
Hoffmeister, Linda
Holmgren, Vera
Horne, Katherine
Hulse, Doris
Jackson, Michelle
Kerttula, Jill
Klein, Rose
Knepper, Margaret
Knowles, Angie
Kusmaul, Karol
Lapham, Susan
Longfellow, LaVeda
MacGregor, Shirley
Maxwell, Sally
McBride, Mary
Michaud, Kestrel
Monday, Susie
Moroz, Ann
Olivea, Mary
Pacarro, Dij
Pal, Mary
Palmer Moore, Jeannie
Patterson-Kutras, Geri
Penney, Jerri
Perry, Jenny
Petrillo, Perlie
Pfalz, Faith
Phelan, Candice
Ritter, Mary
Rozycki Hiltner, Maggy
Ryan, Nancy
Salzman, Pauline
Schwark, Ellen
Severn, Anne
Sievert, Polly
Soules, Jan
Steele, Linda
Teepen, Sandra
Vanderweit, Maggie
Wallace Haeger, Maude
Wallace, Beth Frisbie
Yates Beasley, Barbara
York, Kathy
Zielinski, Heidi
Thank you again to all SAQA members who contributed to this special project!  We appreciate your efforts.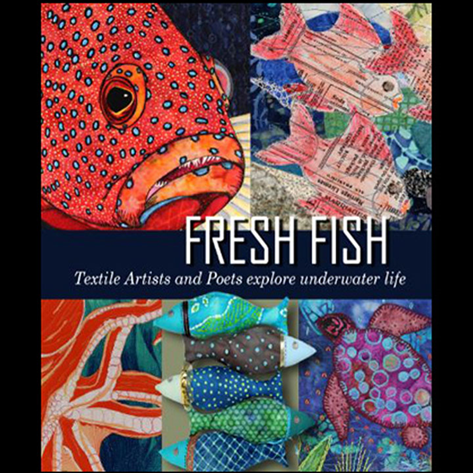 Cover art by: Jerri Penney, Sally Maxwell, Michele Dowdell, Gabriele DiTota, and Diana Bennet